The Threehundredbeers tour of Scotland continues. After a day out in Ellon, Aberdeenshire touring the BrewDog brewery and tasting some of their wares at the giant-dog-friendly DogTap [Edit 2022: the DogTap has been moved and enlarged], we'll stop off for the night in Aberdeen and see what beery delights the city can offer us.
I've heard a lot of good things about six°north. Indeed, any bar that gets to hold a Cantillon Zwanze Day is going to be worth a little of our time. Plus it's about 20 yards from my Premier Inn, so let's pop in and have a look.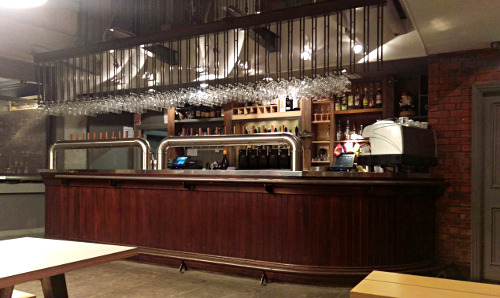 We're officially in Scotland to look for Scottish beers, of course, but among six°north's extensive menu of 313 bottles (yes, I counted them), Belgium is particularly well-represented. Here's one I haven't spotted on any of my trips to Brussels: a hefty 9.0% Abbey Beer from Montignies-sur-Roc, a tiny village close to the border with France.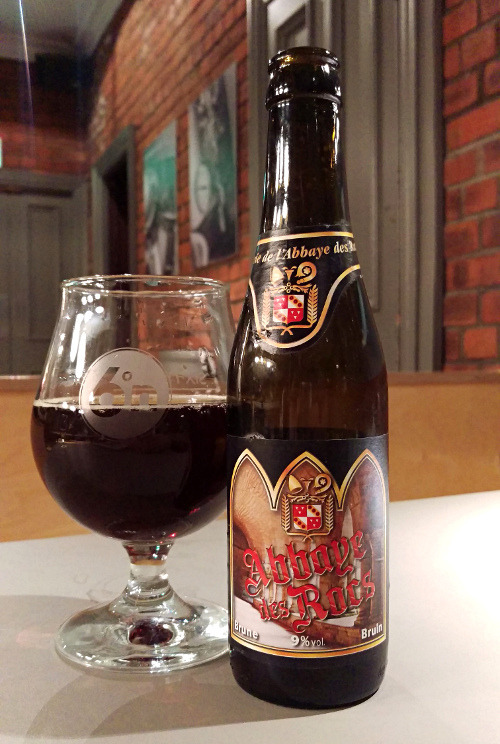 We've already tried Abbaye dec Rocs' Blanche des Honnelles wheat beer, but this is a very different proposition: stronger, darker and heavier, I can see the good people of Aberdeen welcoming a glass of this on a near-Arctic winter evening.
Abbaye des Rocs is a deep, rich chestnut colour, though by no means opaque. There's very little in the way of froth, in part due to the well-trained barman's careful pour.
The aroma is as Belgian as it gets, with those distinctive esters front and centre. Goodness me it's rich too, and full of that roasty, bonfire toffee caramel sweetness. In fact this one probably has more in common with a Barley Wine than a typical Belgian brown.
It's pretty easy to forget the strength, and glug away happily as the beer gets to work and keeps you warm, despite the proximity to the Arctic circle, which I haven't actually checked on a map. But this is the furthest north that we've sampled any of the list so far, and it seems a fitting choice.
Good stuff then, and I can definitely recommend a visit to six°north any time you're in town.
Facts and Figures