OK, I'm a little out of my depth here guys. I ordered what I though was a fairly standard bottle of Belgian golden ale, and I seem to have been served some sort of science lab.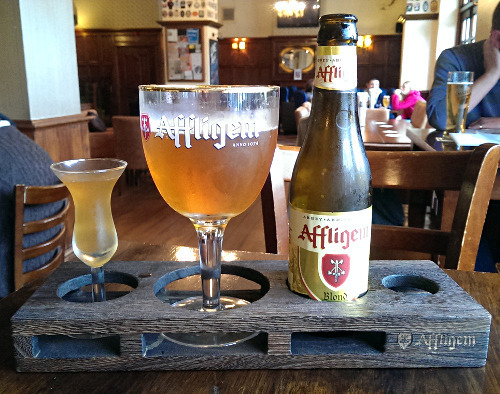 It turns out that there's a great big wanky ritual to drinking Affligem Blond.
This is a bottle-conditioned beer with a hefty dose of yeasty sediment at the bottom. Fine so far, but apparently about 90% of the beer should go into the larger glass, while the yeast is deposited into the little thimble-like thing. You then have the choice of tasting the yeast separately, dumping it into your beer, or disregarding it entirely.
Having poured the beer itself, the barman poured a dose of yeasty solution into the smaller glass but left the thickest dregs of the sediment in the bottle. I wasn't about to argue, since quite frankly I already felt like a bit of a numpty by this point.
Bear in mind I'm in a well-respected real ale pub here, and quite the locals' place it is too. The burly gent at the next table reading The Sun over his second pint of lager is already eyeing me suspiciously. So let's get this one done.
After all that, this tastes like a pretty run-of-the-mill Belgian golden ale or Abbey Beer. My usual point of reference for this sort of thing is Leffe Blonde, and Affligem is not a million miles away. It's much lighter in flavour, though, and vaguely reminiscent of a saison. Still it packs a respectable 6.8% ABV wallop, and so provides a pleasant warming glow for a lunchtime. There's a dense, sweet finish, which isn't entirely unpalatable.
I elected to sample the yeast solution separately at first. It tasted slightly bitter and, perhaps not surprisingly, quite yeasty, but it didn't have much going for it otherwise. So I dumped it into the rest of the beer and pressed on. It did add a little depth and body, I think, but on balance, I would still rather have had another pint of Mild instead.
I'm not sure I can show my face in the Grape & Grain again in a hurry, but in fairness that's five beers in a row that they've provided for this blog, so I'm sure this won't be the last we'll be hearing of that particular boozer.
Facts and Figures