Following a recent pub conversation with a colleague who was lamenting how difficult it has become to find a pint of Mild these days, I realised two things: firstly, he was right, and secondly, he was so right that I'm not sure that I even know what a Mild is.
So I was particularly grateful to spot this one at, you guessed it, The Grape & Grain. Time for your correspondent to learn a little bit more about good old-fashioned beer.
While modern Milds are typically quite low in alcohol—this one tips the scales at a sober 3.5% ABV—the term "mild" does not imply weak in that sense. Rather it means a beer lower in hop bitterness and sweeter than, say, a bitter. That's why it's no contradiction whatsoever for a brewery such as Partizan to create a rather tasty Mild weighing in at 6.4%.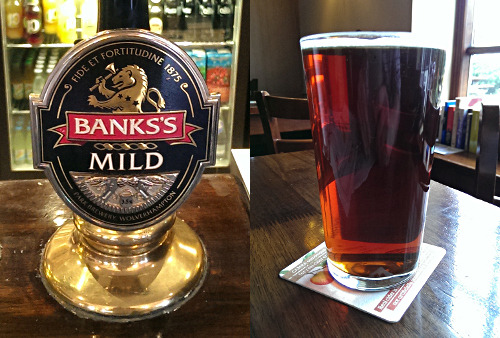 The Banks's Mild pours a lovely deep chestnut colour, with a thin off-white head. Despite the low ABV, it certainly isn't mild in taste: it's a hugely full-flavoured, full-bodied ale, not unlike a Best Bitter.
It's dark, fruity and rich, and there's a delicious underlying caramel sweetness followed by a satisfyingly long bitter finish.
Whatever the current score in the keg/cask debate, this is a beer that absolutely must be cask conditioned, and by someone who knows what they're doing. I certainly cannot fault "the Grape" on that front.
This is a relentlessly sessionable beer, and at just £3.20 a pint (less for CAMRA members) I would happily have had another. Trouble is, I think I just spotted beer number 71 in the fridge…
Facts and Figures