In retrospect, when I blogged about Pendle Witches Brew, I may have been a little harsh on The Grape & Grain, one of Crystal Palace's very best pubs.
I criticised their slightly conservative selection of ales, but in fairness, recent weeks have seen guest visits from ales from some of London's new wave of craft breweries: London Fields, By the Horns and The CronX have all been represented. To top that, the G&G have now provided three beers in a row for my humble blog, so I really should learn what side my bread's buttered on.
The very day after I sampled the cask "Witches" and a lovely bottle of Worthington's White Shield, this one came on tap: a curiously-named porter from a Somerset brewery I'd previously heard absolutely nothing about.
Any excuse to pay another visit to what is, truth be told, a great, authentic beer lovers' pub where all walks of life rub shoulders.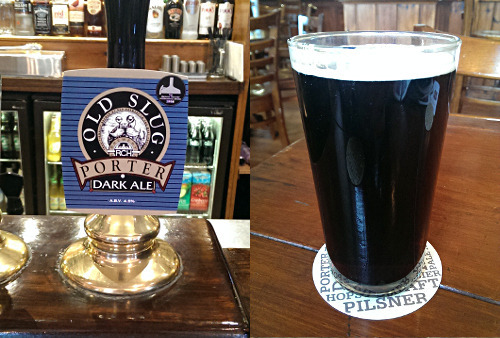 Despite the name, RCH Old Slug Porter certainly is a fine looking pint. At first glance it's as black as night, but closer inspection reveals a beautiful deep ruby red colour with a tan head.
It tastes just like a top-notch porter should. It's dark and rich but medium-bodied, which is ideal for a porter. There isn't too much of the tar, soot and smokiness that are more typical of a stout, and instead the "Slug" is full of dried fruits and christmas cake.
There's a hugely satisfying dry, bitter yet wine-like finish, but the whole thing remains relentlessly quaffable and refreshing. Many people don't expect that sort of drinkability from a dark beer, but my pint lasted no more than 10 minutes, and I'd gladly have had another.
It may be named after the least glamorous of creatures, but this is a first class porter, served here in prime condition.
Facts and Figures