Worthington's White Shield is a near-legendary India Pale Ale from one of Britain's most venerable brewing names. White Shield is the world's oldest surviving IPA, and the one considered by connoisseurs to be as close as you can get these days to the original IPAs brewed in Burton-on-Trent in the eighteenth century to be exported to India.
The Worthington's brand and White Shield in particular have had something of a chequered recent past, having been shunted around various regional breweries, and almost disappearing from existence at one point, having been deemed surplus to requirements by previous owners.
However, in a perhaps surprising turn of events under the stewardship of international brewing giant Molson Coors, in 2000, production of White Shield returned to Burton-on-Trent where it is brewed to this day almost entirely unchanged from its original 1829 recipe.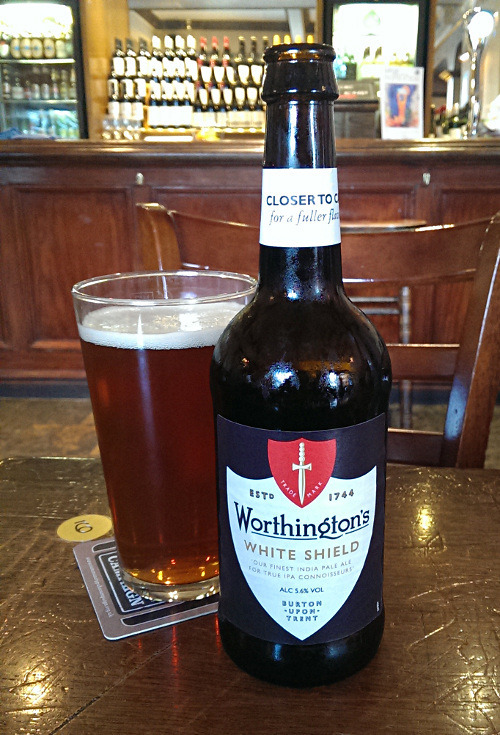 Worthington's White Shield is typically found in bottle-conditioned form. It pours a not-especially-pale chestnut colour with a tight tan head.
There's a massive, almost paintstripping, hop bitterness front and centre, but it's perfectly well offset by the fat malt backbone so typical of the older, English style of IPA. There are toffee and caramel notes, dried fruits, and even a hint of esters that are reminiscent of a Belgian Dubbel.
It's a remarkably complex beer, but all the flavours are in perfect balance, making for a particularly satisfying end product. This truly is a classic beer, and it's great to see it being brewed to its full potential once again.
Facts and Figures