A recent spell out of the office due to a minor injury left me keen to get away from daytime TV and back into the real world. Or at least the pub. Tell you what, shall we go to the pub?
We shall. The Grape & Grain up in Crystal Palace is a great little boozer, and very much one for the real ale purists. I like it. I want to love it, but I don't yet. With a dozen hand pumps, knowledgeable staff, and discounts for CAMRA members, you know where you stand, and it's a huge improvement on its previous incarnation.
That isn't terribly hard, since as a "Jack Beard's" it was part of a chain of utterly hopeless pubs that were a scourge on the entire South London area.
That's no longer the case. Excellent management is now in place, the ales are plentiful and in prime condition, and you can even get a salad here if you ask nicely. My only real reservation is that the selection of beers tends to be quite conservative. With that many pumps, a pub can afford to take a few risks and whack on a good craft Black IPA, Barleywine or Imperial Stout, whereas here you're usually going to be choosing between ten or so inoffensive, sessionable English bitters.
Today at least, one of those bitters was one that we need to cover here on Three Hundred Beers: Pendle Witches Brew.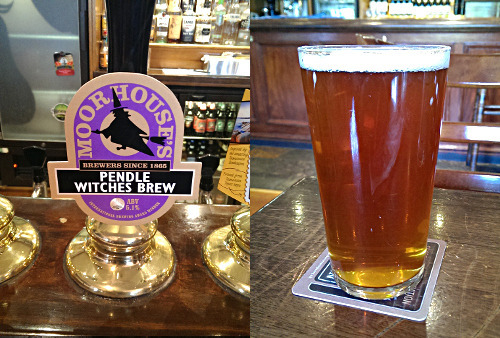 Pendle Hill is well-known to anyone who, like your author, grew up in Lancashire. It has a long history of association with witchcraft and other supernatural activities, and so it gives its name to this beer.
"Witches" is fruity, vinous, bitter and floral. It's pleasant enough, but it's deeply, deeply unexciting. It has won all the CAMRA awards, yet you can drink it without actually noticing it, which, inconveniently enough, leaves you rather short of words if you're trying to describe it on a blog later.
This is a beer very much from the old guard: safe but boring. It's beers like this that are the very reason exciting new breweries like The Kernel and Beavertown exist. Breweries that challenge you to think about what you're drinking.
Facts and Figures