Let's continue a rather productive visit to Lowlander by following the Paulaner Salvator with something slightly stronger.
This is the Maredsous Tripel, an Abbey Beer from Belgium. To clear up any confusion, it was formerly known as Maredsous 10, which is how it appears in The Book. I notice it's not explicitly listed on the menu at Lowlander, but ask nicely and the staff may just be able to conjur one up.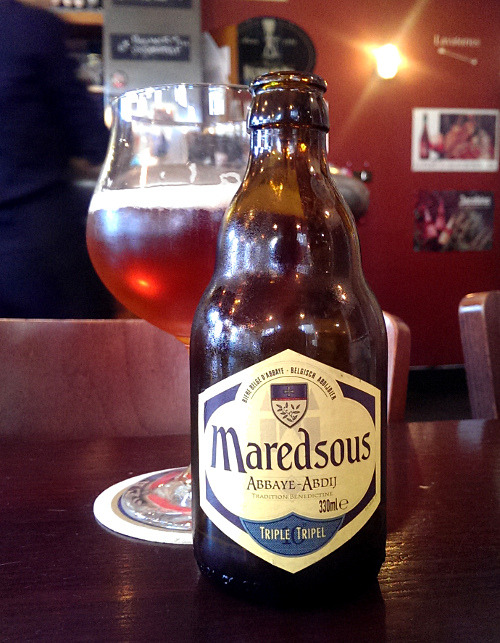 This is a beer that resides very much in the same category as previous Belgian-style Tripels that we've seen, such as the La Trappe Tripel and perhaps the archetype for the style, the Westmalle Tripel.
By way of a recap, Tripels tend to be blonde in colour, but stronger and hoppier than a typical Belgian Blonde. They stand in contrast to the darker, fruitier Dubbel style, for example La Trappe Dubbel.
And so there are no surprises when the Maredsous pours a rich, deep yellow colour, with some light, white froth on top. It looks and smells almost honeyish.
All the expected Tripel flavours are there: subtle dried bananas, Belgian yeast and fragrant hops. At 10% ABV it's a big old beer, and the alcohol heat isn't hidden by any means. It's balanced out by that honey sweetness, though, and the result is a very pleasant beer.
It improves as it warms, as butterscotch notes appear and the hop bitterness becomes more apparent, though that alcohol burn never really goes away.
I appear to have written "better than Westmalle" in my scribbled tasting notes. That's a bold claim, and it's one I'll have to selflessly research rigorously before committing myself to it fully.
Facts and Figures