Without doubt, Lowlander has been a valuable ally on this journey. I've found several beers there already, and we haven't quite exhausted the impressive beer menu just yet.
While many of Lowlander's beers tend to be Belgian or Dutch, this one from Munich in Germany has recently appeared on the menu. It's a Bock, and while I still don't fully understand what that is, I know it's technically a lager, though nothing at all like the usual pale Eurofizz.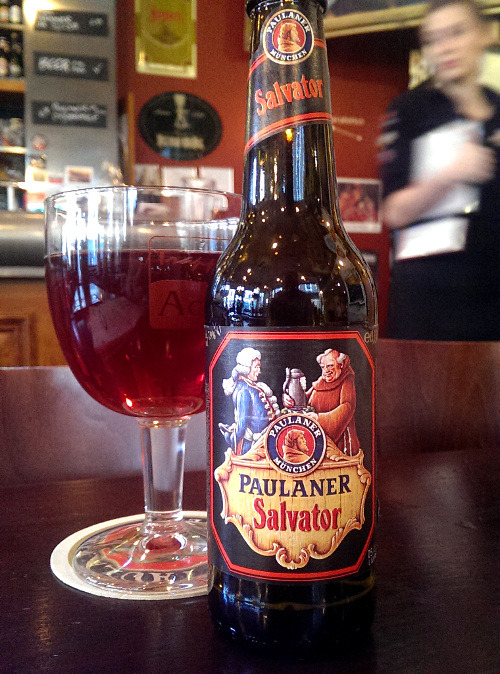 Paulaner Salvator is in fact a Doppelbock, so it weighs in at a quite respectable 7.9% ABV. I'm told that it's brewed with wheat, though it doesn't appear particularly cloudy. Instead it's a warm, rich chestnut colour with the slightest trace of caramel froth on top.
It's lovely stuff, being smooth and deep with unctuous toffee and butterscotch flavours and sultana-like fruit. There are spicy notes too, similar to those found in a rye IPA.
The full body and richness remind you that the beer was originally brewed by Franciscan monks to sustain themselves through the period of Lent, and only later sold to the public to raise funds for the monastery.
For its fairly hefty alcohol payload, it's surprisingly easy drinking and slips down a treat. All in all, Paulaner Salvator is a very pleasant change from the usual, and a beer I'm sure I'll be enjoying again before long.
Facts and Figures