Since we're at Café Bebo already, it seems like it would be rude not to see whether there's anything else on the menu that may be of interest to us.
There is, of course, and it's a strong, dark Abbey Beer brewed under the supervision of the Benedictine monks of the Abbaye de Maredsous, deep within the Walloon region, some distance south of Brussels.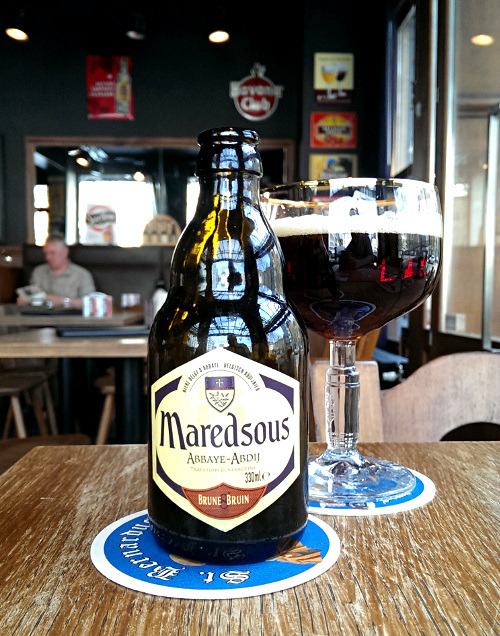 We enjoyed the even stronger Maredsous Tripel at Lowlander back in London, but there's something nice about finding a beer in its home country.
This is quite a different beer. The deep ruby brown colour is a giveaway, of course, as is a huge peppery aroma full of caramel and sinister dark fruits.
It's lovely stuff too: rich, warming and packed with fruity date and raisin notes. The caramel is there in the flavour, but the beer isn't oversweet. Instead there's a satisfying, roasty coffee-like bitterness in the finish.
Maredsous Bruin is broadly similar to a Trappist Dubbel, such as the La Trappe Dubbel, though it's darker, fuller bodied and a little stronger. Indeed, the respectable 8% ABV strength isn't hidden, but really doesn't need to be. This was always going to be a beer to take your time over and savour slowly. It would make a great winter or after-dinner beer, though sat in a Brussels café on a spring afternoon was just fine too.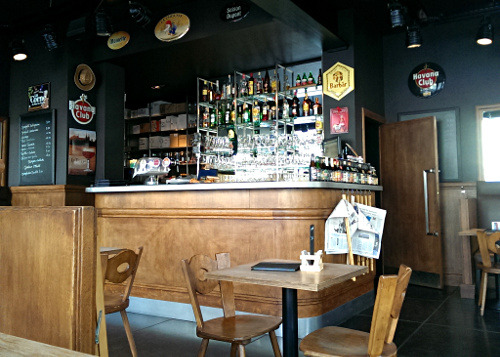 I think that's all of the beers we need from Café Bebo, but that won't stop me dropping by any time I'm in Brussels. I'm rather fond of the place, and it's been pleasing to finally work it into the blog.
A special word of thanks must go to The Beer Boutique, a cracking beer shop in Putney, London. My minimal tasting notes from the afternoon at Café Bebo reflect the fact that 24 hours researching beer in Brussels will take its toll on a chap. The Beer Boutique kindly got this one in stock at short notice, allowing me to cobble together something resembling a blog post. My thanks to them for that.
Facts and Figures
| | |
| --- | --- |
| Brewery: | Abbaye de Maredsous, Denée, Belgium |
| Strength: | 8.0% ABV |
| Found at: | Café Bebo, Place Rouppe, Brussels, Belgium |
| Serving: | 330ml bottle |