It's day three in Brussels, and you certainly didn't think I would come all this way without a return visit to Cantillon. I toured Cantillon last year, and very much enjoyed the Kriek, a sour, cherry-infused version of their world famous Geuze.
There sadly wasn't time to repeat the tour this time, so you'll have to make do with my words and pictures from last year, a morning when I practically had this venerable beery mecca to myself.
In a pleasing turn of events, there are still three Cantillon beers to be covered, and the thirsty beer pilgrim can sample this one, the Rosé de Gambrinus in the tasting rooms for a couple of euros. Let's order a glass, steer clear of the deathtrap furnace in the middle of the room, and pull up a barrel.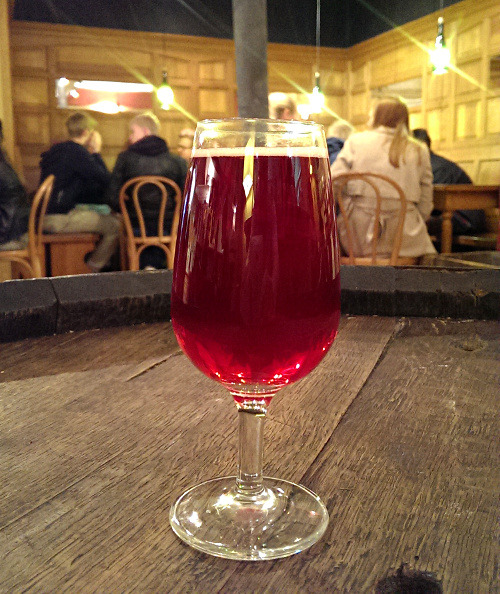 The Rosé de Gambrinus is a very similar style of beer to the Kriek. Like that one, this is a Geuze, a bottle fermented blend of barrel-aged sour Lambic beers—a style in which Cantillon lead the world—infused with fruit, in this case raspberries.
And oh my, it's good. It's a shame the glass used here isn't big enough to get your face right in there and fully enjoy the aroma, because it is fantastic. Face-puckering sourness laden with gorgeous raspberry fruit and the smell of generations of the same family perfecting their signature brewing style and technique.
To taste, it's just a lovely beer. The sourness is pretty full on, but unlike the Kriek, which is made with sour cherries, the sweetness of the raspberries hits a perfect balance, without ever straying into Robinson's cordial territory. Indeed the finish is long, tart and moreishly dry.
Initially light, zesty and refreshing, you imagine you could drink this all day, and yet it's so complex that you'd still be discovering new depths to it at bedtime. Given that it's not quite 11am yet and there is other business to attend to before we run for the Eurostar, we had probably better not try anyway.
We will, however, take advantage of the unnecessarily reasonable prices at the brewery shop—£6 for a 75cl bottle of Vigneronne would tempt you to leave London for good—and load up the rucksack with some treats to take home.
Facts and Figures