It's about time we drank this one. It has been sat in The Official Threehundredbeers Kitchen Cupboard for longer than I can actually remember. The "best before" date appears to be some time in 2015, and it was purchased from the long-closed and much missed BottleDog shop on Gray's Inn Road.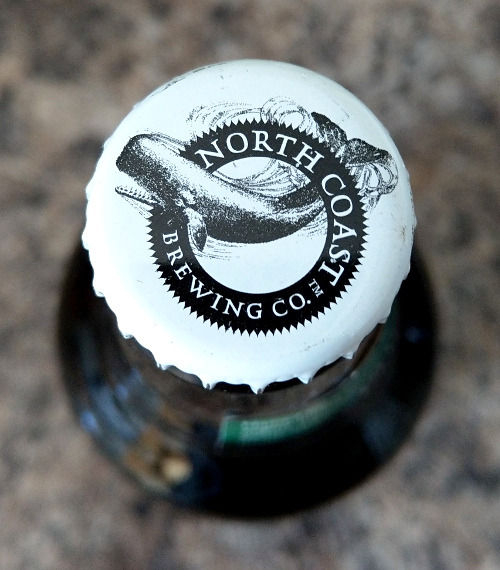 I opened this one over the sink with some trepidation: with a beer this old—especially one at only 5.4% ABV—you never know what kind of chemical reactions may have happened in the bottle in the meantime. Thankfully there's no gushing to contend with, merely a gentle "pssssst" on opening.
What does burst out of the bottle is a huge aroma of chocolate, raisins and booze. Old No. 38 is certainly one of the finest-smelling beers I've come across in some time. This should be interesting.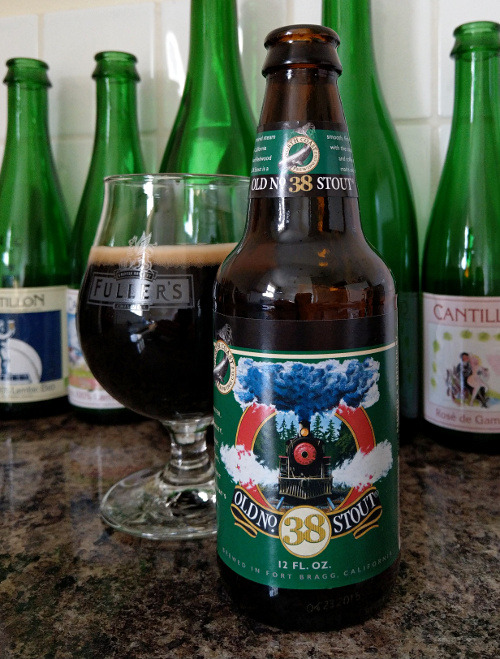 Hailing from Fort Bragg, California, North Coast Brewing Old No. 38 Stout comes to us from the same brewery that brought us that rather nice Old Rasputin Imperial Stout a while ago. It's named after a steam engine that used to work its way up and down the Fort Bragg to Willits route, about which I know nothing whatsoever, but which I assume to be fairly picturesque.
Pouring a deep, dark, almost opaque brown colour with a smooth tan head, Old No. 38 sticks to the glass like a much stronger stout should. Perhaps on pouring the beer looks a little thin-bodied, but once you get it into your mouth, that couldn't be further from the case.
Instead, Old No. 38 is rich, smoky, roasty and very smooth indeed. There's a prominent dark chocolate bitterness that never becomes overwhelming, it's full of juicy dried fruits, and it's ridiculously easy-drinking for a stout. This is gorgeous stuff, to be frank.
This is a truly excellent beer. It's hard to know what role the ageing played in its development, but what is certain is that if I ever find another bottle, it won't hang around nearly as long.
Facts and Figures