It's been quite some time since we last covered a Barleywine, which seems remiss, as it's fast becoming one of your correspondent's favourite styles.
Barleywine originates in the country houses of England, where it was originally brewed as a potential alternative to non-native wines as an accompaniment for food. The style fell from favour fairly promptly, and was all but forgotten until Fritz Maytag of San Francisco's Anchor Brewery introduced Old Foghorn.
These days Barleywines are all the rage among the better US-based brewers. They all seem to make at least one, and one of the most famous is Sierra Nevada Bigfoot. It's not terribly easy to find, and only produced in once-yearly vintages, but Putney's rather wonderful Beer Boutique came up with the goods recently.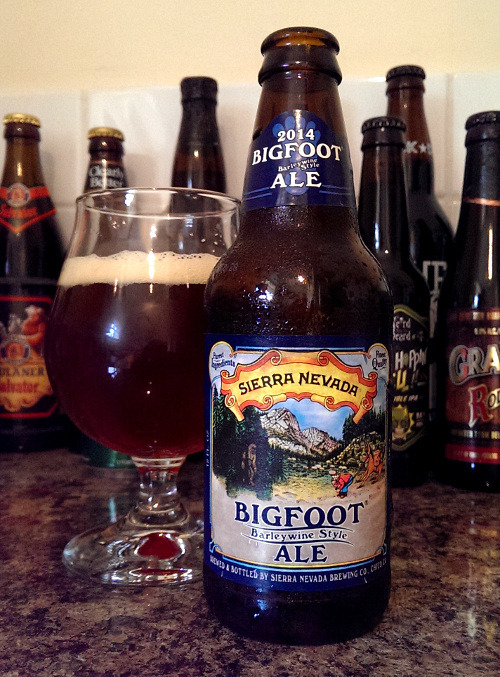 Sierra Nevada Bigfoot looks and smells every inch the classic Barleywine. It's a rich, deep caramel and Greek honey colour, with a good dose of tan foam on the top. There's caramel in the aroma too, along with sinister black treacle and a hefty dose of peppery hops.
As Barleywines go, the Bigfoot is remarkably bitter. Some examples of the style can be excessively, cloyingly sweet, but that certainly isn't the case here. There is a dense, malty underlying sweetness all the same, but it's more than balanced out by the bitterness.
There are plenty of big, fruity flavours, along with some medicinal, cough syrup notes and huge pine resins. It's a giant of a beer in many ways, and all that flavour is backed up with a big, warming 9.6% alcohol hit.
This bottle was from the 2014 vintage, and so very fresh indeed, but Bigfoot is considered to be one of the best beers around for ageing. I'll be putting at least one or two away then, and hopefully tracking down some from other vintages past and future too.
Facts and Figures