For the second of the two Adnams beers that we need to try, let's seek out an actual Adnams pub. In fact, it's terribly convenient that the sizeable Suffolk-based brewery happen to have one, and it is just the one, right here in London.
And so to the Bridge House on the southern slopes of Tower Bridge. As an Adnams pub, you'd expect their flagship Southwold Bitter to be in good condition here. You'd also expect your pint to be reasonably close to containing a pint, and to be served in less than 10 minutes if you're the only customer waiting at the bar. But you might well be disappointed.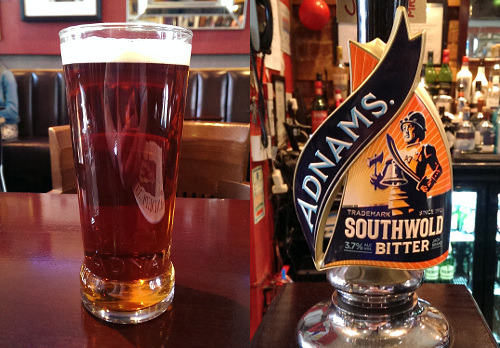 Stingy measures and disinterested service aside, the Southwold Bitter is a handsome enough beer, being a deep reddish copper colour with smooth off-white head, albeit one that fades quickly.
It's relatively full bodied and indeed full flavoured for an "ordinary", and in fact reminds me more of a Best Bitter. Still, I guess the sober 3.7% payload would preclude that particular classification.
Beyond that, it's a Bitter, and you already know what it tastes like. There's very little to distinguish the Southwold Bitter from any other example of the style that you might come across, and so I'm struggling to come up with colourful adjectives to describe it. It doesn't help that it's a style of beer that doesn't tend to be particularly exciting in the first place.
Still, it's in good condition here, and it was entirely drinkable and seemed to go down quickly enough. Which was convenient as it allowed me to press on to the Draft House just down the road for a rather more interesting selection of beers.
Facts and Figures
| | |
| --- | --- |
| Brewery: | Adnams, Southwold, Suffolk, England |
| Style: | Bitters |
| Strength: | 3.7% ABV |
| Found at: | The Bridge House, Tower Bridge Road, London SE1 |
| Serving: | Cask, pint |