I've lost count of how many beers the Grape & Grain have been able to furnish us with so far, but I think it's approaching double figures. Indeed it's often worth casting a speculative eye over the pumps if I'm in the area, and today was no exception. Pint of Hanlons Port Stout please, barman.
There's a minor operational matter to clear up before we dig in, though. This one is listed in The Book as "O'Hanlon's Original Port Stout", but is now the more concisely named "Hanlons Port Stout", since the O'Hanlon's Brewery changed hands just a few months ago.
It's the same beer though, though, and is even brewed by many of the same people. It's time to see what a Stout with port in it tastes like.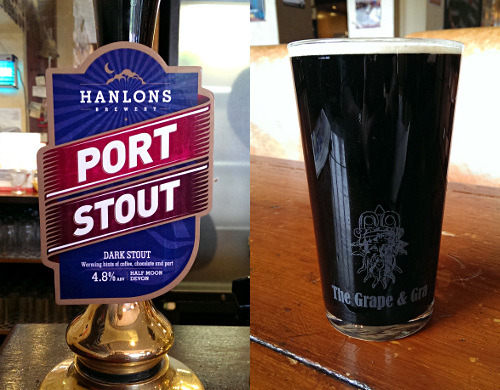 Hanlons Port Stout looks much as a Stout should, pouring as black as you like, with a light tan head. From the first sip it's very much an "Ooh, that's quite nice actually" beer.
It's smooth and rich, and basically tastes a lot like a decent Stout. I'm not sure I'd be able to identify port specifically, but it does work. There's a floral and very subtle Turkish Delight sort of sweetness that balances the inherent Stout roastiness, taking any kind of burnt edge away.
In fact there's no harshness at all, so this one might appeal to drinkers who wouldn't usually try a Stout. There are plenty of nutty, chocolatey notes too, and a long, pleasing bitter finish to keep things satisfying and moreish.
This perhaps isn't the deepest, most complex Stout I've ever tasted, but it's one of the most drinkable, and is certainly worth a try if you come across it.
Facts and Figures