Since we're at the Royal Oak already, and very pleasant it is too, maybe we should make the most of our visit by treating ourselves to a bottle of the other Harveys beer we need, the Imperial Extra Double Stout.
As befits a beer with the words "imperial", "extra" and "double" in its name, this one is a bit of a monster. At 9% ABV it's not for beginners, and even draws a questioning look from the young barman who's clearly surprised that anybody would drink one at lunchtime.
But it's only a little bottle, and anyway Threehundredbeers does not have a choice. Not when there is science to be done.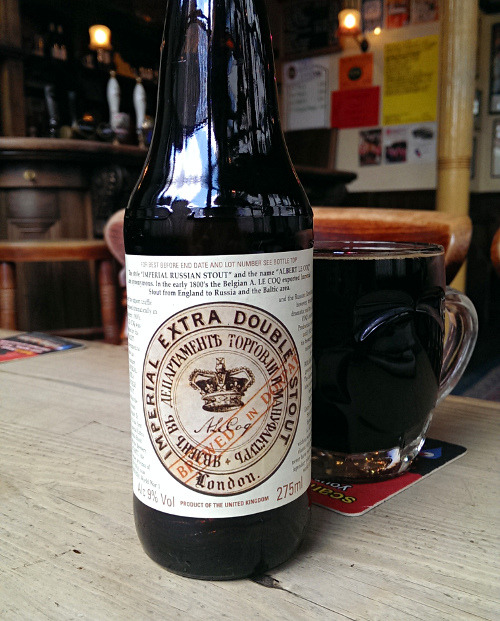 Harveys Imperial Extra Double Stout is as dark a brown as a beer can get without being black. There's no head or even froth to speak of, despite a fairly aggressive pour, which isn't unusual with beers this strong.
What it does have in spades, though, is what daft beer bloggers call "legs". That is to say it coats the glass thickly with luxurious, lingering boozy alcohol residues. There's a huge aroma too, wafting across the table as the beer is poured. It's smoky, sinister and very alluring indeed.
The body isn't the fullest I've ever seen on a stout, but that's forgotten the moment you taste it. That smokiness is front and centre, and accompanied by massive quantities of licorice and a rich, chocolatey bittersweet tang that's reminiscent of the Brooklyn Black Chocolate Stout, a confirmed favourite of mine.
There are soot, leather, tar, black cherry and even sour lactic notes, but thankfully none of the superfluous sweetness that can plague some Iesser Imperial Stouts.
You can taste the alcohol though, that's for sure, as it adds a decadent, almost numbing heat. You can feel it too, but you aren't complaining. It's a lovely, warming beer that drinks more like a fine port or sherry.
This really is something a bit special. Given all the flavours that are in there vying for attention, I'm certain the Imperial Extra Double Stout would age beautifully, so we'll brave another questioning look from the barman as we order a couple more to take home for the cellar.
Facts and Figures