Harveys Sussex Best is one of those beers that are tremendously easy to find all over London. It's also a beer that, like many bitters, unless kept well and served in top notch condition, can be a little underwhelming. Indeed, despite its ubiquity, I don't think I've ever had a truly good pint.
Let's find out just how good this beer can be by making our way to one of only two Harveys pubs in London, and one I've never visited before, the rather wonderful Royal Oak in Tabard Street.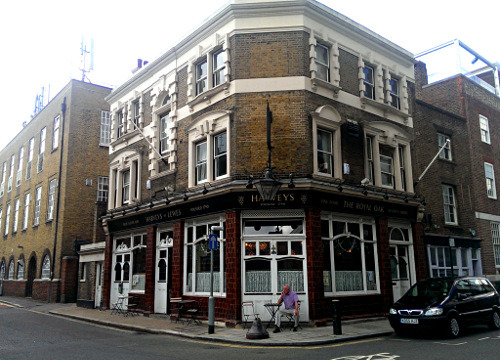 It's a handsome enough pub, that's for sure. A traditional, two room Victorian street corner pub tucked away not far from the hustle and bustle of London Bridge. The interior doesn't appear to have changed in a good century or so. And why would it.
Even early doors, there's an eclectic yet pleasingly reassuring mix of customers: the familiar regulars studying the racing form in the Sun over a half of Mild, a couple of card-wielding CAMRA gents in actual sandals, and a young family enjoying a hearty feed. Everyone seems to be on first name terms.
And of course there's a nerdy beer blogger sat awkwardly in the corner pretending to do the cryptic and waving a cameraphone at anything that moves. Pint of Best please, chief.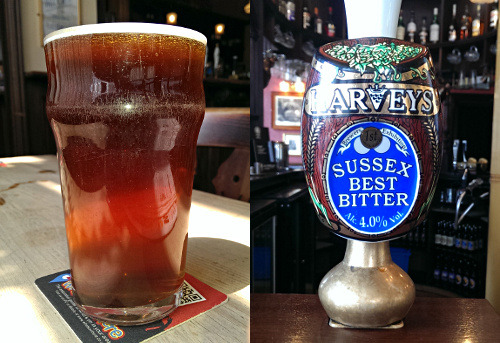 Harveys Sussex Best is a lovely bronze colour, with a light, rocky tan head. It's in impeccable condition here, of course, and it's a different beer to the few pints I've had elsewhere.
The flavour is all sultanas, caramel and biscuity malts, with a big long bitter finish courtesy of the peppery English hops. At 4.0% it's eminently sessionable, but without being in any way boring.
To be honest, if you know what a Bitter tastes like, you know what this one tastes like. It tastes like a Bitter, obviously, but a little bit better.
I think that's a function of being brewed, conditioned and served with absolute pride. It's a fine beer indeed, at a fine pub. I had another. And then I found beer number 107 quietly minding its business behind the bar…
Facts and Figures