The short stretch of London alongside and under the railway tracks into London Bridge station is home to a growing number of excellent small, new breweries, including The Kernel, Partizan and Brew by Numbers.
On Saturdays these breweries, along with many of the other small businesses in and around the railway arches, such as bakers, cheesemongers and importers of various delicious foodstuffs, open their doors to the public, who are invariably eager to sample the wares on offer.
All in all, the so-called "Bermondsey Beer Mile" makes for a particularly pleasant Saturday stroll for the beer lover and so this weekend, the help of Official Threehundredbeers Drinking Buddy Ben was enlisted, and we were on the hunt for beer number 104.
The newest beery addition to the Bermondsey area comes to us via Canterbury's The Bottle Shop, whose growing wholesale operations have seen them establish a depot in a Druid Street arch. Again, on a Saturday they open up to the public, who can take a seat and choose from the 350 or so beers in their catalogue.
One of which—I'm very pleased to report—is Rogue Shakespeare Stout.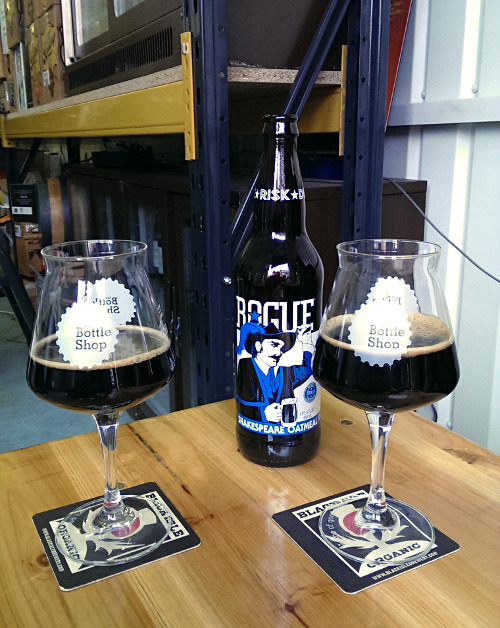 Poured from its double sized sharing bottle, the Shakespeare Stout is as black as black can be. It's entirely opaque, with a good dose of coffee-coloured foam that dissipates quite quickly.
It's a complex beer. At first taste it's a big, honest, flavoursome stout but there are notes of a roasty, caramel sweetness, vanilla and cardamom spice.
As with the Samuel Smith's Oatmeal Stout, the use of oats makes for a really smooth beer. There's no harshness at all, but there is a huge long bitter finish that lingers and lingers.
The bitterness is offset by that slight caramel sweetness, making for a beautifully balanced beer. This is really just a great example of a no-nonsense, high quality stout, and one I'd happily drink again. Which is fortunate, as I took advantage of The Bottle Shop's reasonable pricing and brought another bottle home.
Facts and Figures