This particular beer achieves several firsts for Threehundredbeers. For a start, it's the first beer to be tackled from the Dortmunder Export chapter of The Book, and it's also certainly the first Lithuanian beer I've ever tried.
Finally, this is the first bottle from an interesting case of beers ordered from Beers of Europe. We'll be seeing a few more from that batch before long, and there are a couple of intriguing ones in there, so do stay tuned.
Let's start with Švyturys Ekstra, a rather handsomely presented Lithuanian lager.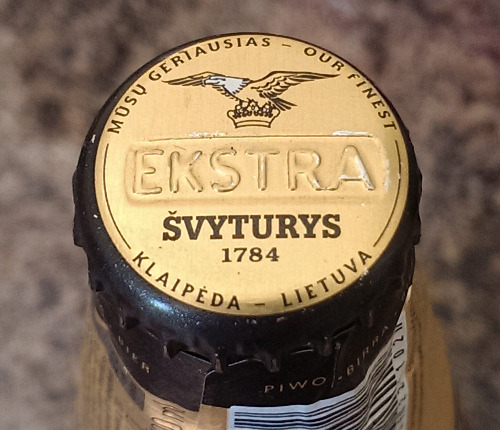 Dortmunder Export-style lagers originated in Germany, and tend to be made with darker malts than, say, Pilsners, while being slightly higher in alcohol. Not all of the sugar is fermented off, potentially making for a slightly sweeter-tasting end result.
Švyturys Ekstra seems, then, to be surprisingly pale in colour, being a very light straw colour with a frothy but quite thin white head. It tastes like a fairly standard lager, though it's slightly fuller-bodied and smoother than expected. There is a sweetness there, but it's thankfully more of a malty than a sugary one.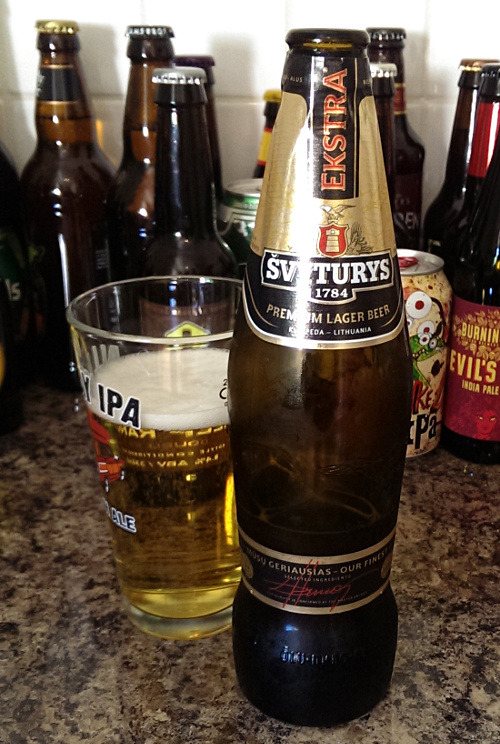 I chilled this one, but as it warms a lot more flavour comes out, including some citrus notes, and a surprisingly big, bitter hoppy finish.
This isn't a bad beer by any means, and it's kind of refreshing and easy-drinking, but it's not an easy one to get excited about. If you like lager you'll certainly like it a lot, and if you don't, then Švyturys Ekstra probably won't change your mind.
Facts and Figures