Well, now here's a little bit of variety: our first wheat beer, and our first trip to that most beery of countries, Germany.
Based on limited experience, I can't claim to be a big fan of wheat beers, but there are an inordinate number of them in The Book. I think old Roger might be a bit of a fan, so I'm going to have to be open-minded.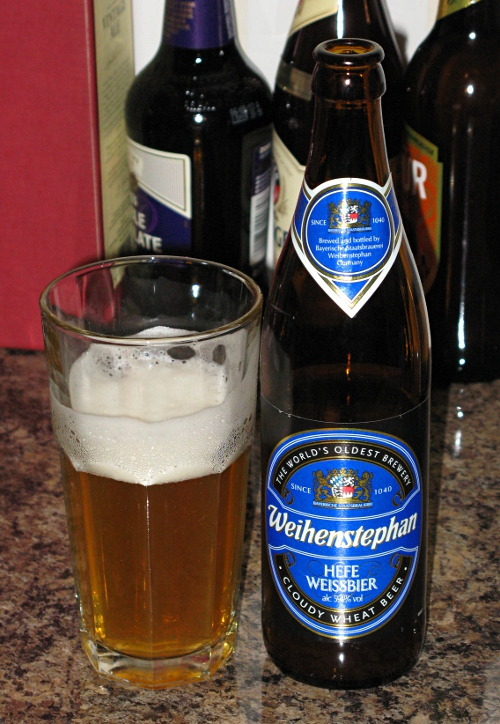 I'm clearly no expert, but Weihenstephaner Hefe seems darker than I'd expect from a wheat beer. There is a nice cloudy yeastiness to it however, and that should be no surprise, since "Hefe" means yeast, and this is an unfiltered variant of the style, designed to keep that yeast floating around in the beery goodness.
The taste is not dissimilar to the ubiquitous Hoegaarden, but is lighter and more subtle. In fact this is really quite a nice, refreshing beer. The hops are present yet gentle, and there's a faintly detectable citrus twist and a nice long malty finish.
It isn't especially complex, and there isn't a great deal of depth to it, but this would certainly make for a most pleasing summery, sitting-outside-the-pub sort of beer.
It sounds a little like faint praise, but of the few wheat beers I have tried, I think this might be my favourite.
Facts and Figures