Back to Belgium we go, to sample the famous golden ale that looks like a lager.
Duvel dates from between the wars, and was – staggeringly – inspired by McEwan's Export. Back then, the Export must have been a very different brew from the deeply questionable grog I used to buy at the Tollcross Superstore for 59p a can as a student, because this is nothing like it.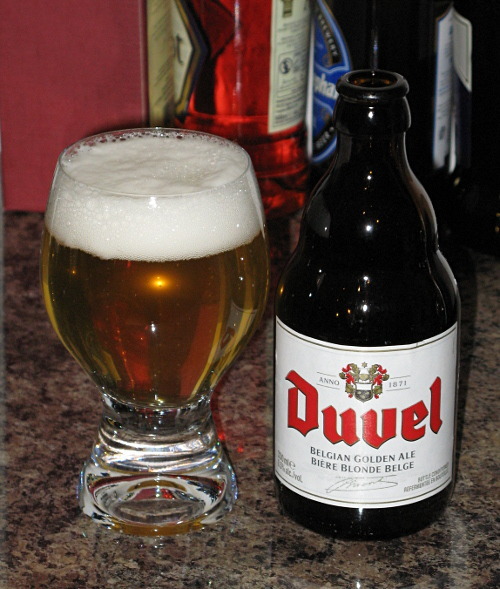 Instead, Duvel is golden, light and refreshing, not least considering that 8.5% of it is alcohol. There's a pleasant yeasty haze to it, and it has infinitely more charm than our previous Belgian beer, the mysterious Karmeliet Tripel.
There's just enough depth here to allow Duvel to be savoured slowly, whilst remaining remarkably easy drinking.
I'm still not completely convinced about where these super-strength golden Belgian beers fit in to one's beery routine, exactly. Duvel is nice enough, but I'd choose a rich, dark Chimay over it given the opportunity.
Stay tuned, and I soon will. There's one sat in the kitchen right now…
Facts and Figures
| | |
| --- | --- |
| Brewery: | Duvel Moortgat, Breendonk, Belgium |
| Style: | Golden Ales |
| ABV: | 8.5% |
| Found at: | Sainsbury's, Westow Street, London SE19 |
| Dispense: | 330ml Bottle |