This was the easiest beer so far to find, as I had a bottle stood in the kitchen even before 300 Beers was conceived.
It seems strange to think that it took Marston's, founded in 1843 and based in Burton upon Trent – the home of IPA – until 2003 to brew an India Pale Ale. When they finally did, they came up with a real winner, and one which I enjoy fairly regularly.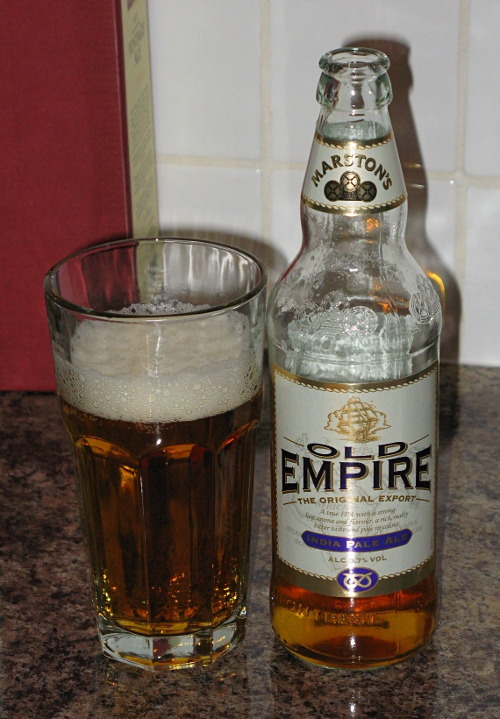 From the nose alone, you can tell Old Empire isn't one of the current wave of citrus hop bombs like Thornbridge Jaipur or the Goose Island IPA from a few days ago.
In fact this is a more subtle and complex brew, where the toasty malty flavours are given equal billing with the hops. That said, it's still very hoppy, as befits an IPA, so it's really quite a strongly flavoured beer, with a lot of layers to it.
Lightly chilled, Marston's Old Empire is a perfect curry quencher, but as it warms up there's more and more to savour. Definitely a favourite.
Facts and Figures
| | |
| --- | --- |
| Brewery: | Marston's Beer Co, Burton upon Trent, Staffordshire, England |
| Style: | India Pale Ales |
| ABV: | 5.7% |
| Found at: | Londis, Westow Hill, London SE19 |
| Serving: | 500ml Bottle |