Reaching the minor landmark of Beer Number 50 seems like a good excuse to crack open something special, or at least a little bit different. To celebrate, I've plumped for a beer that I've been eyeing up for a little while: Saison Dupont.
Saison is a particular style of beer originating from Belgium—where else—where, in a refreshing deviation from the usual narrative, it was traditionally brewed not by monks, but by farmers. Saison was originally a relatively weak beer, designed to hydrate and fortify the farm workers at a time when there was no reliable source of untainted drinking water—hops and alcohol forming a particularly successful preservative partnership.
In that regard, Saison echoes the "small beer" that kept Britain alive through the centuries when cholera would take your first born as soon as look at you, and which was even issued to schoolchildren at morning break until mediaeval Tory cuts took hold, probably.
Anyway, this is only the second Saison I've ever tried, after London-based Beavertown's experimental Saison 34 a few weeks ago. With the greatest of respect to Beavertown, Dupont is the real deal, the one against which all Saisons tend to be judged. The Dupont yeast strain alone is legendary, and is highly sought after by other brewers. In fact, that Beavertown Saison and many others are brewed using Dupont yeast.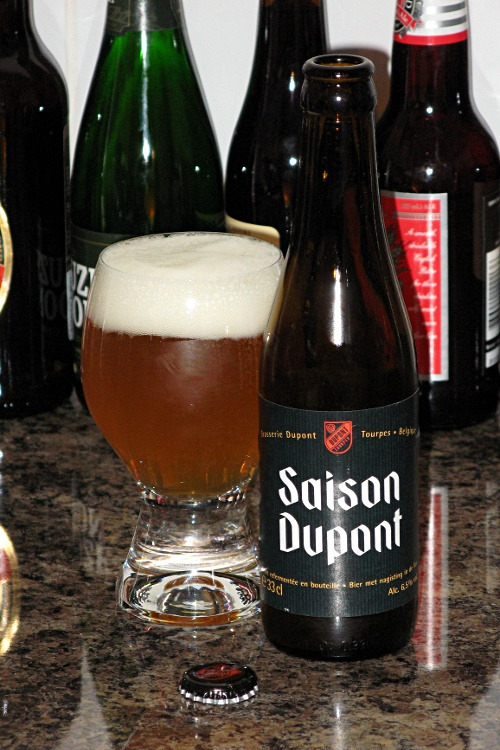 Saison Dupont pours a slightly hazy golden colour, with a big, frothy white head. It smells fresh, floral and hoppy, and it tastes that way too, with the distinctive Belgian esters being present, but much subdued. It's a little reminiscent of Leffe Blonde, but much more subtle.
I'm also reminded of Duvel, though there's an extra peppery spice that Duvel lacks. Saison is often herbed and spiced, for example with coriander, cloves and orange peel, and while I'm not sure which botanicals are used to make this beer, they're used in restrained quantities, so proceedings remain light and fragrant.
Although I mentioned that Saison is traditionally a weaker beer, times keep on changing, and you do have to remember that we're talking about Belgium here, so Saison Dupont weighs in at 6.5% ABV. It tastes a lot lighter though, and remains particularly refreshing. It's all finished by a crisp, dry, lingering finish.
So do I like it? I do, but it was going to be hard for Saison Dupont to live up to the high regard in which it has historically been held, not least since this isn't a style of beer which is likely to blow your mind.
Saison Dupont is really just a very refreshing, enjoyable Belgian ale, and a very good one at that. It would be great with food, particularly mediterranean flavours, ideally sat outdoors late into a summer's evening.
Facts and Figures