It's off to the Cotswolds we go to try the first beer I've ever had from the Hook Norton Brewery, their delightfully and somewhat misleadingly named Old Hooky.
I say misleadingly, because unlike Old Peculier or Old Tom, this is a Best Bitter rather than an Old Ale.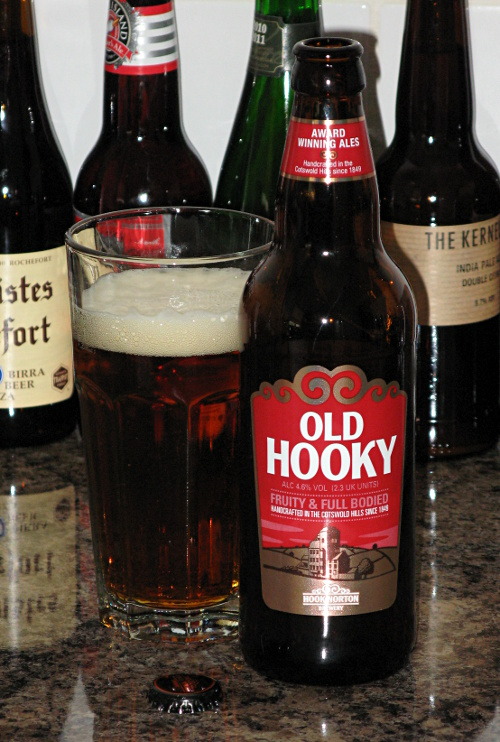 It's a handsome enough looking beer, pouring a warm, rubyish amber colour with a big off-white head, albeit one that fades quickly. The nose is remarkably fruity, and I'm surprised to notice that it smells almost like a Belgian Dubbel, such as Westmalle Dubbel or Chimay Rouge. There's that distinctive, estery waft of dried fruit so typical of that style.
The fruitiness comes through in the flavour too, where it's especially reminiscent of sultanas, and is backed up by some hefty malts. There's a huge bitterness, but also a sweetness, and finally a saltiness that's reminiscent of Marston's Pedigree.
There's a lot going on flavour-wise here then, but I'm not sure it all comes together into more than the sum of its parts. I'm just not sure what this beer's driving at or trying to be.
In fairness, Hook Norton are all about cask ale: they refuse to let a drop of their beer be served from a keg, and sell very few bottles. It's quite possible that I'm doing them a disservice by trying this one from a bottle, but given that Old Hooky is nigh impossible to find on cask outside Oxfordshire, it's all I have to work with.
A reasonably good beer then, full of flavour, but not mind-blowing in any way. Still, I promise I'll try it on cask if I ever have the opportunity!
Facts and Figures
| | |
| --- | --- |
| Brewery: | The Hook Norton Brewery, Hook Norton, Oxfordshire, England |
| Style: | Best Bitters |
| Strength: | 4.6% ABV |
| Found at: | Bossman Wines, Lordship Lane, London SE22 |
| Serving: | 500ml Bottle |