Here's a beer that's been sat around the house, and indeed somewhat neglected for a while since it arrived in a case from Beers of Europe a year or so ago.
Whilst I'm not typically a great fan of the Belgian-style Wheat Beers, I'll keep an open mind. I have tried one Caracole beer, their Ambrée, at Poechenellekelder in Brussels, and it was very good indeed.
Let's give this one a chance.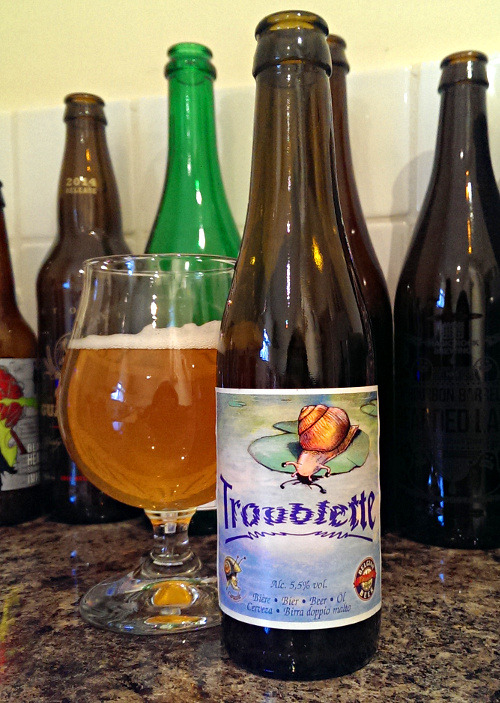 There's that slightly murky golden colour so typical of the style, though it's a little less cloudy than some, despite a reasonably hard pour to make sure any yeast gets in there, which appears to be the done thing.
It smells distinctly Belgian: when it comes to beer, Belgium is all about the yeast, and as expected it's prominent here.
To my surprise, I actually rather like this one. It's light but not as watery as the Blanche de Namur. If anything, it's a little more like a standard Belgian blonde than any wheat beer I can remember.
There's an interesting citrus tang in there, and I wonder if Troublette contains a hint of orange peel, which is a common addition to this style of beer. There's a subtle but pleasing peppery hop bitterness which is a rarity for a Belgian beer, but welcome all the same.
Served chilled, this would be a thoroughly refreshing summer beer. I can well imagine myself sipping one on the terrace outside Poechenellekelder while watching the tourists go by.
You know, that gives me an idea. Stay tuned…
Facts and Figures