The keen-eyed reader will be a little surprised to see this beer pop up, since it isn't actually in The Book. In fact this is our first substitution for a discontinued beer.
This one replaces Nethergate Augustinian Ale. Now, Nethergate do still brew a beer by that name, but it isn't the beer featured in The Book, a 5.2% bottled beer spiced with coriander, which was typically only available in the US.
That leaves us needing to fill a gap in the slightly catch-all Beers made with Fruit, Spices, Herbs and Seeds category. I think this will fit the bill nicely.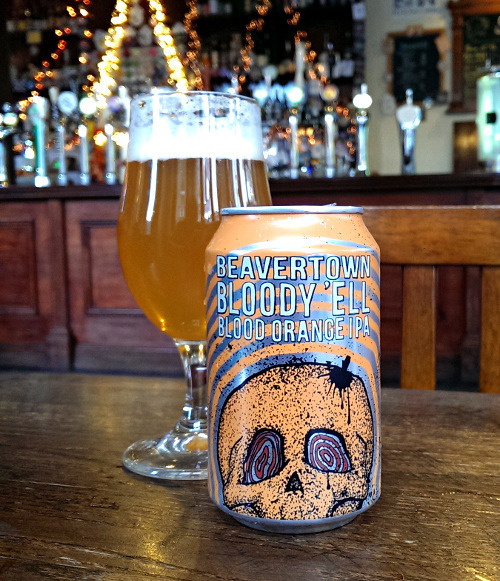 Right off the bat, I'll admit to being a huge fan of London's Beavertown, so there was no hesitation in picking this one, especially when it appeared in the fridges at the ever-magnificent Stormbird. You may remember Stormbird from several previous posts.
Beavertown are one of the success stories of the flourishing modern London beer scene, and brew some terrifyingly good beers. Bloody 'Ell is an occasional, special edition type beer brewed with the addition of a metric truckload of blood oranges.
A thumping great 7.2% American-style IPA, Bloody 'Ell comes as fresh as can be in its tactile, garish little can, decorated with Beavertown's distinctive signature Nick Dwyer artwork.
As a natural, dare I say "real" beer, Bloody 'Ell is not artificially clarified, and so pours the now almost traditional "London Murky" golden colour so typical of IPAs from the new wave of London breweries. There's a great big waft of citrus, as much from the giant American hops—Amarillo and Citra—as the blood orange.
The citrus obviously carries through to the flavour, though interestingly enough, I'm not convinced I would have identified the orange specifically without prompting.
That's kind of a compliment: the huge juicy hops and the blood orange combine so effortlessly that nothing seems out of place, and the orange becomes more of a subtle addition rather than giving the impression you're drinking a fruit beer.
Either way, it all works beautifully. Mouthwatering and hopelessly moreish, Bloody 'Ell is an instant classic. It's just a shame that the quantities produced are naturally constrained by a limited supply of the oranges themselves.
Good stuff. I'll take two more cans home with me, thanks Stormbird.
Facts and Figures