In the previous post, I hinted that a trip back to Poechenellekelder in Brussels might be on the cards, and so it happened that a very pleasant Sunday afternoon saw Threehundredbeers lumber off the Eurostar, blinking in the sunshine, and make straight for Rue du Chêne.
You may remember Poechenellekelder from such poorly-photographed beers as Pauwel Kwak and Bush Ambrée. It's a unique place lined floor-to-ceiling with intriguing and occasionally macabre artefacts including puppets, musical instruments and various brewery-related memorobilia.
The café is a classic slice of Brussels and a cornerstone of the city's beer tourist trail. And Threehundredbeers has a little unfinished business to which to attend regarding Poechenellekelder's extensive beer menu.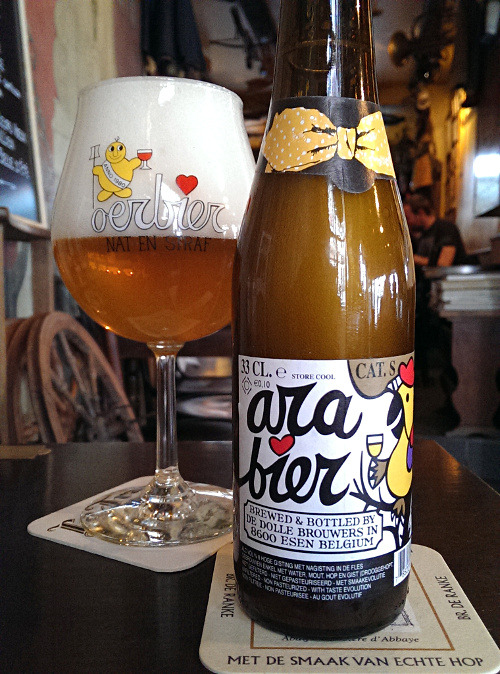 Founded sometime around 1980, De Dolle Brouwers ("The Mad Brewers") are a relatively young brewery by Belgian standards, but their Arabier has become a bit of a modern classic. It's classified as a Golden Ale in The Book, but it's very much in the Belgian style, and nothing like some of the rather drab British entries.
You can tell it's Belgian with one sniff, as that classic yeast is front and centre and, relatively unusually for a Belgian beer, there are big peppery hop aromas too.
Those hops contribute a huge, pleasing bitterness, lifting the beer clear of standard Belgian blonde territory. In fact the hop bitterness combined with the hefty 8% ABV payload means this one is perhaps more reminiscent of a Tripel than a Golden Ale, and that's no bad thing.
There are mouthwatering grapefruit notes, and just the slightest sour hint suggesting a yeast such as Brettanomyces might be involved to a minor extent too, although it's subtle enough that my inexperienced tastebuds couldn't swear by it.
Either way, this is a hugely satisfying beer, complex and rich, although all of that combined meant that a second might have been a little overwhelming, at least in terms of flavour.
Instead, fed, relaxed, and pleased to be back in one of my favourite bars and favourite cities, I abandoned blogging duties for the evening and commandeered a gigantic 12% ABV Malheur 12°. But just the one: we've an early start and a busy day planned for tomorrow.
Facts and Figures