As this particular Brussels adventure draws to a close, what better way to bookend the trip than with a return visit to Poechenellekelder, back where we started with De Dolle Arabier a couple of days ago.
It'll be a good opportunity to fortify ourself for the trek home with one last croque monsieur, and to pick off a final beer from the list, Anker Gouden Carolus Classic.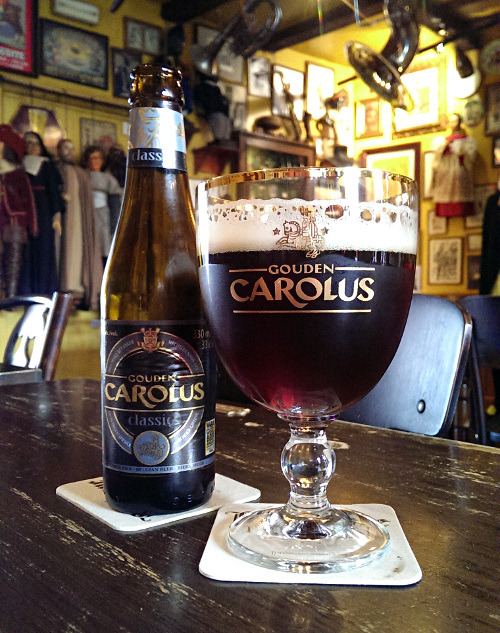 Brouwerij Het Anker are based in Mechelen, Belgium and the Classic is one of several beers in their Gouden Carolus range, named after the golden coins of Belgian-born Roman emperor Charles V.
It's certainly a change from the usual Belgian blonde beers. Dark and sinister with a small tan froth, it's more reminiscent of a porter. It smells that way too, with smoky tobacco aromas alongside generous helpings of dates and other rich dried fruits.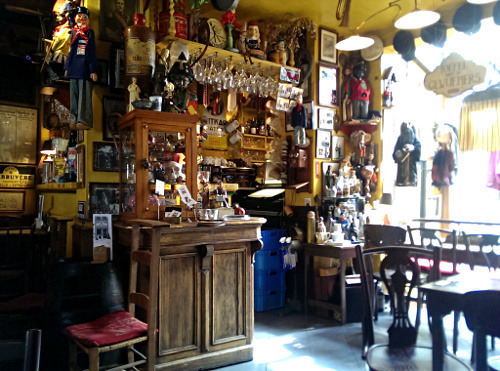 Gouden Carolus Classic is remarkably easy drinking, and certainly doesn't taste its full 8.5% strength. Instead it's smooth and creamy with a tiny bit of sweetness that's almost reminiscent of a milk stout. That smokiness is evident in the flavour, as are lashings of singed bonfire toffee and liquorice notes.
I like this one. It's the perfect beer to soothe your system after a hard couple of days of Belgian research, but it would also go very well with rich stews or game.
And with that, we bid farewell to Poechenellekelder and to Brussels for the time being. I don't think there's any doubt that we shall return.
Facts and Figures