Beer number 83 is one of those ones that you really do have to travel to enjoy properly. Pauwel Kwak obviously has to be served with its unique glass and wooden stand, and quite frankly you'd feel a bit daft sitting in a boozer in South London with one of these, even if you could find it.
Fortunately, in Brussels no one bats an eyelid, though I suspect this may be more as a result of the number of tourists who order a Kwak just for the glass, rather than the number of Bruxellois who would regularly drink it.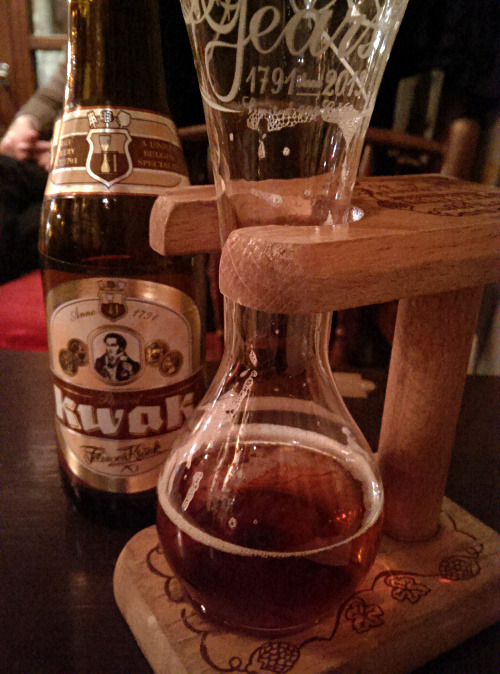 I ordered this one at the rather wonderful Poechenellekelder—"the puppet cellar"—in Rue du Chêne, an instant favourite bar lined floor-to-ceiling with masques, marionettes, ventriloquist's dummies and all sorts of black and white photos and assorted historical memorobilia.
Helpfully for 300 Beers, it also has a truly impressive beer menu running to something like 130 beers, almost all of them Belgian.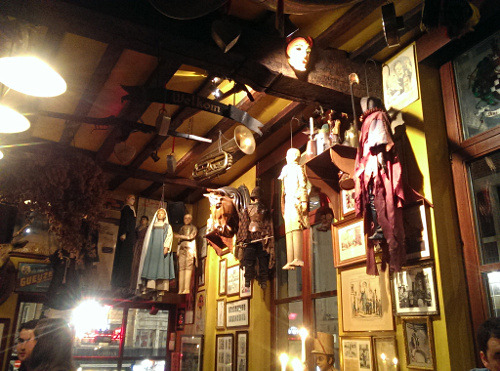 The legend behind the glass, by the way, is that it was designed in the early 19th century by innkeeper Pauwel Kwak—"Fat Paul" to his mates—to be served to coachmen to slip into their stirrup as they rode away on horseback. That's plainly nonsense, of course, and the truth seems to be that it was invented in the 1980s as a marketing gimmick.
Which is a bit of a shame really, because the fame of the glass tends to overshadow what is in fact a rather wonderful beer.
Pauwel Kwak is a warm, deep, reddish ambrée colour with a big foam head that froths all over the place when poured, but quickly calms down.
It's thick, rich and a little sticky, and is quite reminiscent of a Barleywine. It's low on hop bitterness, but full of treacly malt sweetness and warming alcohols.
Kwak is pleasingly strong at 8.4%, though admittedly that's only the third strongest of three beers I tried in Poechenellekelder that night, thus making the delicious, restorative black coffee I enjoyed there the following day particularly welcome.
All in all, a lovely beer, and one I look forward to trying again some day, perhaps even as part of a return visit to Poechenellekelder before long.
Facts and Figures