I was pleased to find this one. You don't see a great deal of Traquair House Ale here in London, and by all accounts it's far from ubiquitous in its native Scotland.
Traquair House is found in Innerleithen, which appears to be a thoroughly remote corner of the Scottish Borders. It claims to be Scotland's oldest inhabited house and functions as a hotel and wedding or conference venue. More to the point it has been brewing beer, on and off, since the early 1700s.
Whilst Threehundredbeers is not averse to a spot of travel to find a beer, it was still a relief to find Traquair House Ale on the impressive beer menu at the rather pleasant Exmouth Arms in Clerkenwell, a little closer to home.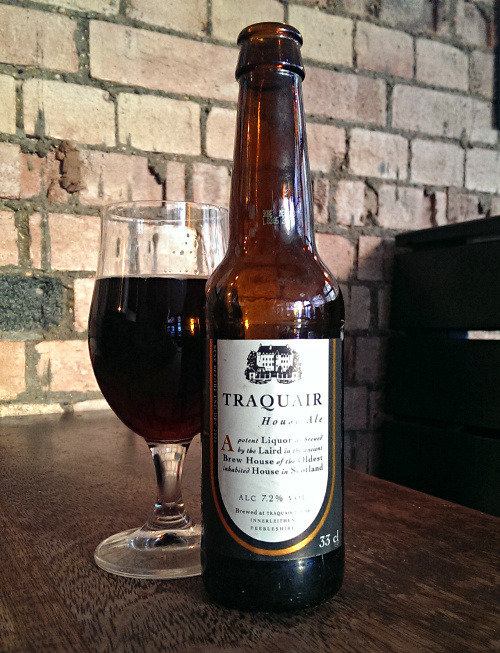 The Book lists Traquair House Ale under Old Ales, Barley Wines and Vintage Ales, but intriguingly the Exmouth Arms menu classifies it as "Belgian & Belgian Style", so this could be interesting.
It's a rich, dark Greek honey sort of colour with the faintest lacing of tan foam, rather than any kind of head to speak of. At a thoroughly respectable 7.2% ABV that isn't particularly unexpected.
That strength is evident at the first sniff, where a good boozy hit is joined by distinct caramel and treacle toffee notes. This is a winter beer for sure, so we've chosen well for early January.
All of those notes carry through to the flavour, where they're joined by big, dark, fruity malts which bring a sweetness so characteristic of Scottish ales. Hops are subdued, and again this is typical of the Scottish style, the harsher climate of the north being less than ideal for growing hops, at least for the time being.
I can see where the Exmouth Arms get the "Belgian" idea from too. There are those yeasty esters and dark fruit notes that are typical of a Trappist-style Dubbel, such as the La Trappe Dubbel. Either way, this is your classic winter warmer, and I'm sure it would accompany a hearty stew or even Christmas pudding very well.
Good stuff, so thanks to Traquair House for brewing it, and to the Exmouth Arms for stocking it. I'll be back to work my way through that menu.
Facts and Figures