Time for another visit to Germany. Well, to a pub in South London, to be more accurate. But Zeitgeist is a German-run pub with a good range of German beers that aren't always easy to find elsewhere, and it's a very pleasant place to while away a quiet weekend afternoon.
Jever Pilsener is fairly accurately named: it's a Pilsner, which the Germans spell Pilsener and it's from Jever which, I learn, is the capital of the district of Friesland in Lower Saxony, Germany.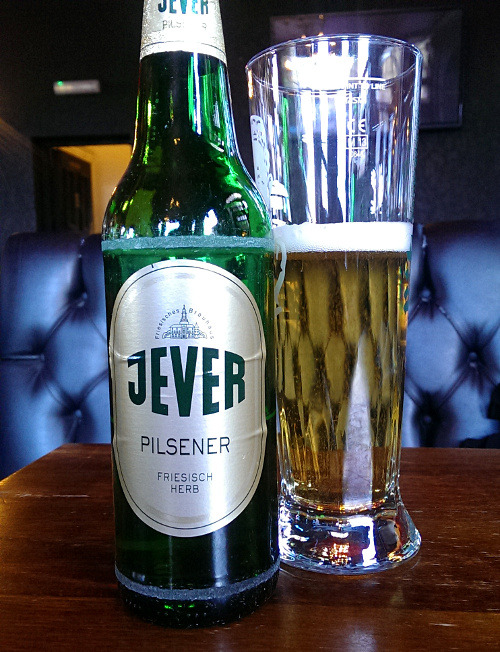 There are no surprises in the looks department, with Jever Pilsener pouring a standard lagery straw-like colour with a hearty dose of white froth that hangs around tenaciously.
It smells kind of lagery too and a little malty, though there's a distinct whiffiness typical of a beer that's spent a fraction too long exposed to daylight, which can occasionally be a problem with green glass bottles.
This one tastes alright though. Still, Jever Pilsener is in many ways your standard continental lager, and there isn't a great deal more that one can say about it. It's a high quality example of the style, certainly. It's relatively complex, well-balanced, and there's quite a pleasing crisp, dry citrus aspect to it that's quite moreish.
Not that a second bottle was a foregone conclusion, as the gassiness so typical of the style soon became slightly tiresome, and quite frankly there are more interesting beers to be sampled at Zeitgeist.
Facts and Figures