Threehundredbeers is a huge fan of Cask Pub & Kitchen in Pimlico. For five years, Cask has been at the forefront of the beer revolution that has been happening in London and beyond. It was the first branch in what became the Craft Beer Co. group, and it's basically just a great pub.
So it's a bit of a surprise that not one of the preceding 125 beers has been found there. Let's put that right by spending a very pleasant Sunday afternoon working our way through the tap lineup and rummaging around in the remarkably well-stocked fridges.
This will do nicely.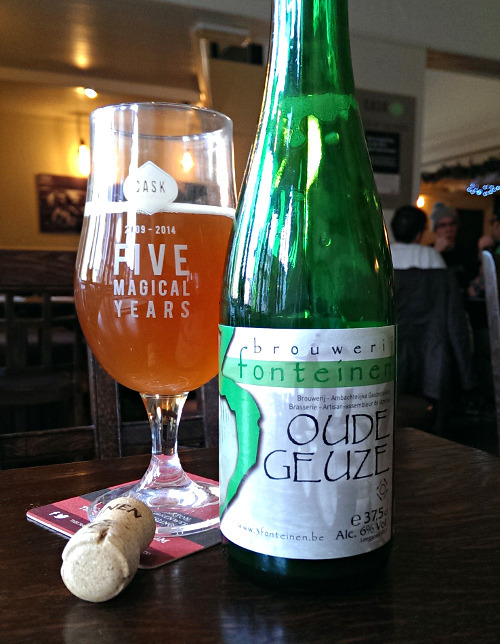 That's Drie Fonteinen Oude Geuze, from the tiny town of Beersel in Belgium, not far from Brussels. You know all about Geuze by now of course, thanks to our visit to Cantillon, and that cracking Boon Mariage Parfait Kriek we had more recently.
There are three Drie Fonteinen beers to track down, and the Oude Geuze is I guess the core of the range. It's a blend of 1, 2 and 3-year-old barrel-aged Lambics, blended and refermented in the bottle, in this case for about a year and a half, to become a classic, sour, frothy Geuze.
Frothy enough to try to escape from the bottle before we've even paid for it, in fact. That stirs up the yeast a little, and so the Oude Geuze pours a handsome, hazy amber colour with a characteristic mountain of white foam that fades quickly.
The aroma is of big, mouth-watering citrus sourness, underpinned with subtle woody notes which I assume to be a result of all that time spent in barrels.
That carries through to the flavour, where the sour is of course front-and-centre, but perfectly balanced by generous mouthfuls of citrus fruit and those years of aging, leading to a thoroughly complex beer. There's the dryest, longest finish that I can remember ever coming across on a beer.
As refreshing as it is, this is a beer that's well worth taking your time over and savouring slowly to appreciate all those flavours.
Without wishing to get all philosophical, for me Geuze has become symbolic of the beer journey this ridiculous blog has taken me on. When I tried my first ever example, the Boon Geuze, I apparently didn't much care for it. With a lot more experience under my belt, it has quickly become one of my very favourite styles.
Fortunately there are a few more to track down, and a glance behind the bar suggests Cask may able to help us out again in the near future.
Facts and Figures