This is the third and final one of the 300 Beers to be produced by the Anchor Brewery, following on from the Steam Beer and the Liberty Ale. While the latter didn't blow me away, the Steam Beer was a revelation, and I must admit to taking a bit of a shine to this plucky San Francisco brewery with their stout little brown bottles and handsome label artwork.
Even more excitingly, this is the first chance I've had to try a beer labelled as a Barleywine. Barleywine is essentially just very, very strong beer, fermented for significant periods of time. It's apparently a centuries-old English style of beer, originally brewed for the aristocracy, but it's one we really don't see a lot of in this country these days, to the extent that I'd always assumed it was an American style.
In fact it was Anchor themselves and their Old Foghorn which introduced the style to the States, where it quickly caught the imagination of brewers and drinkers alike. I think we'd better get more intimately acquainted. I'm looking forward to this.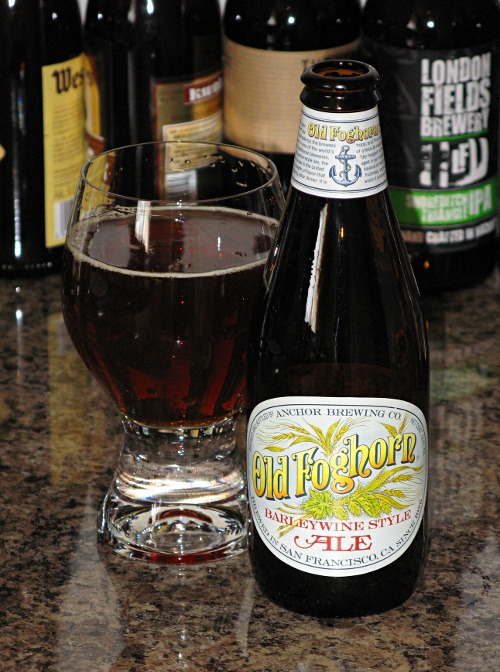 Like the previous Anchor beers, this one is impeccably presented, though its label diverges from the usual sailor tattoo artwork for something a little more pastoral, featuring barley and hops. The beer itself is a dark, glossy Greek honey sort of colour with little to no head, just a light off-white lacing.
There isn't a great deal of aroma to Old Foghorn, which lulls you into a false sense of security, as it completely belies the massive amounts of flavour within.
Old Foghorn is thick and rich, and almost the same texture as Greek honey too. It's full of plump dried fruit and treacle. There's a faintly medicinal note to it, which is less unpleasant than it sounds, along with a real sweetness, albeit a pleasing, tart, bitter sweetness which lingers in the mouth.
That bitterness comes from Old Foghorn being matured on a bed of Cascade hops for no less than 10 months, before being dry hopped, meaning that yet more hops are added to the finished beer. I suspect a lot of the depth also comes from the fact that only the first pressing of the mash is used, a technique we previously saw applied to a quite different beer, Japan's Kirin Ichiban.
All in all, I'm reminded strongly of one of my favourite guilty pleasures, Fuller's Golden Pride, though this is a little richer and darker. I'm starting to like it a lot.
This is a strong old beverage at 9.4% ABV, and there are naturally huge boozy notes, enough to remind you to take it slowly and savour Old Foghorn respectfully. The alcohol isn't overbearing though: it just provides a lovely warming hit that gets to work pretty promptly.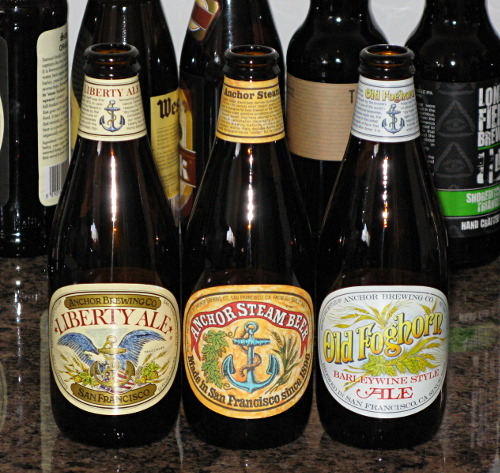 This is a terrific beer, and one that reminds me why I started this blog. It's thanks to breweries like Anchor and Brooklyn (particularly their Vienna-style Lager and Black Chocolate Stout) that my preconceptions about American beers have been shot to pieces, with Anchor Old Foghorn being the final, delicious bullet.
Facts and Figures