Now, this one I really have been looking forward to, not least because I already know it's a cracker. This is not my first encounter with Brakspear Triple.
Brakspear are based in Oxfordshire and are known for some fairly well-regarded bitters, none of which I've tried, but this is their extra special premium beer. It's painstakingly crafted: double dropped, triple hopped then thrice fermented and nicely presented in individually numbered bottles.
Let's see if it was worth the effort.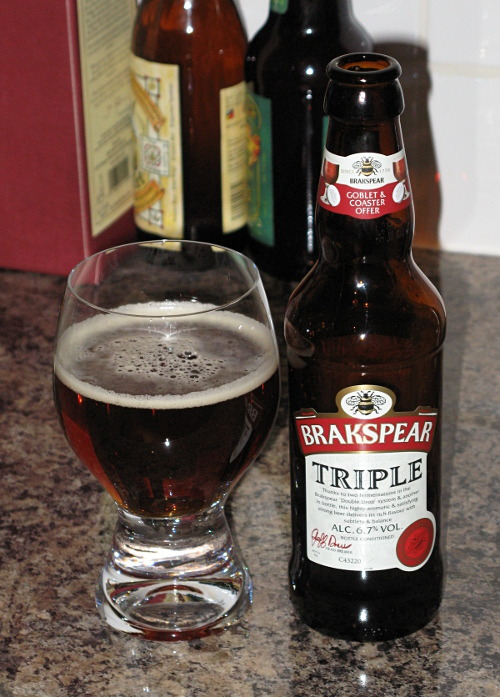 Triple pours a lovely golden ruby colour, with more of a lacing than an actual head. It smells rich, toasty and promisingly boozy.
It tastes of, well, more booze, but it's a lovely Christmas cakey, sherryish, mince pie sort of booze. There's a long-lasting and pleasingly bitter finish, offset by just the right amount of butterscotch sweetness.
Brakspear Triple is a complex and decadent yet smooth beer which slips down a lot more easily than its potent 6.7% alcohol payload would suggest, making it dangerously moreish.
An absolute treat.
Incidentally, readers who enjoyed Brakspear Triple may also like to check out the quite similar, and equally lovely Little Brew Ruby. Little Brew is essentially one bloke named Stu, currently making some of the very best beer in London.
Which is seriously high praise.
Facts and Figures