Fancy a quick pint on the way home from work? Tell you what, let's pop in to the Edgar Wallace. I've heard a lot of good things about the pub, and have an inkling that they might be able to help 300 Beers out with a beer or two.
It turns out to be a very nice pub. It's pretty traditional, and the walls and ceiling are lined with brewery and other booze-related memorabilia and pump clips.
Sure enough, among the eight handpumps is Crouch Vale Brewers Gold (no apostrophe, note), a beer about which I know very little, other than it's in The Book, and that it's the only beer to have been crowned Champion Beer of Britain two years running.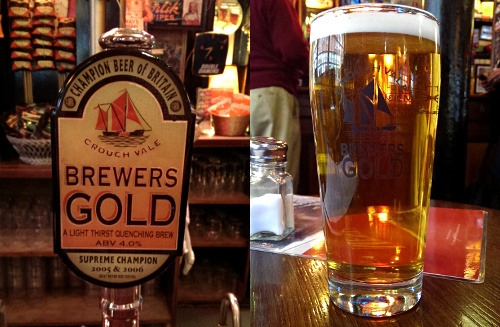 As you can tell, it's kind of dark inside the Edgar Wallace, even on a sunny evening, but I can just make out that Brewers Gold is well-named, as it's gold in colour, with a white head that fades to nothing a within a few minutes of getting back to your seat.
It's in good nick here all the same, much as I'd been told it would be. The first taste is sweet, sappy and resiny. It's full bodied, with rich honey flavours and a slight chemical note that I can't quite place.
The sweetness carries through strongly to the finish, where it's joined by a restrained hop bitterness that builds noticeably as you work your way towards the bottom of the glass.
Brewers Gold reminds me somewhat of the Kelham Island Pale Rider that I enjoyed a great deal up in Sheffield, but I'm not sure it's quite in the same league.
It's a pleasant enough, slightly moreish and very sessionable beer, though I didn't find it particularly exciting. I'd drink it again, but probably wouldn't go out of my way for another pint.
Facts and Figures
| | |
| --- | --- |
| Brewery: | Crouch Vale Brewery, South Woodham Ferrers, Essex, England |
| Style: | Golden Ales |
| Strength: | 4.0% ABV |
| Found at: | The Edgar Wallace, Essex Street, London WC2R |
| Serving: | Cask, pint |