It's slightly worrying quite how soon it has started to become difficult to find new beers from the list. I narrowly missed out on Anker Gouden Carolus Classic at the Colchester Winter Ale Festival, I've worked my way through the menu at Lowlander, and even the once-reliable Grape & Grain has stopped tweeting tap updates and is becoming another bloody Wetherspoon's.
Keeping an eye on social media has become priceless, and that's exactly how I learned that the King's Arms in Waterloo had put Exmoor Gold on the pumps.
I'd never visited the King's Arms—it's usually far too busy at the times I'm in the area—but I'd heard a lot of good things about it, so let's pick up the Sunday papers and hop on the 68 to Waterloo.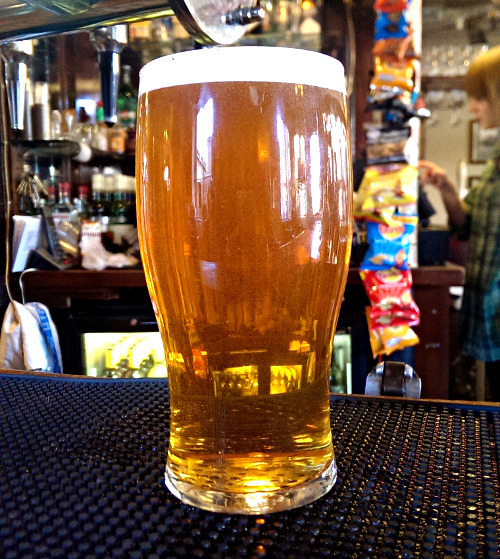 It's a great pub, quite frankly, with a rare preserved two-room layout and an ever-changing range of cask ales. I started with a Dark Star Original, which I've only otherwise seen at Dark Star's own pub, the Evening Star in Brighton, then got down to blogging business with a pint of Exmoor Gold.
As the name suggests, it's gold in colour with a small beige head that sticks to the glass. Exmoor Gold is unashamedly a fairly typical Golden Ale, and in fact is claimed to be the original example of the style. That said, it's not a style that can usually be relied upon to excite your blogger, but it's pleasant enough.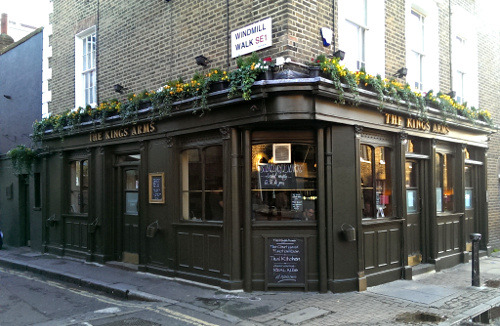 I can't say the Exmoor Gold challenged my expectations about this style. As with the Young's London Gold, there's just so little one can find to say about it. The only flavours I could really detect were a slightly cloying sweetness and a worrying acetic tang. It would be sessionable if you were planning to have a few pints, which Threehundredbeers is not.
The Book claims Exmoor Gold to be "intensely hoppy", "intensely bitter" and "memorable" but it's none of those things. Times and tastes have changed a great deal since those words were written.
Facts and Figures