It's difficult to overstate the influence that Sean Franklin, founder of North Yorkshire-based Rooster's, has had within the British brewing world over the years.
Sean is credited with pioneering the use of hops in creating the fundamental, distinct character of individual beers, rather than merely as a preservative which conveniently happened to contribute a bit of aroma and bitterness.
A former professional wine boffin, Sean famously described hops as "the grapes of brewing". That's absolutely true, and it's a lesson that has enthusiastically been taken to heart by the new wave of British and American brewers (I'm doing my best to avoid using the word "craft") for whom hops are the lifeblood.
Yankee may be Rooster's most famous beer, but you really don't see enough of it down south. Yet in a move that will delight fans of seriously fresh beer, Rooster's have recently begun canning several of their brews, and the handsome little chaps have been cheerfully popping up in the fridges of discerning pubs and bars.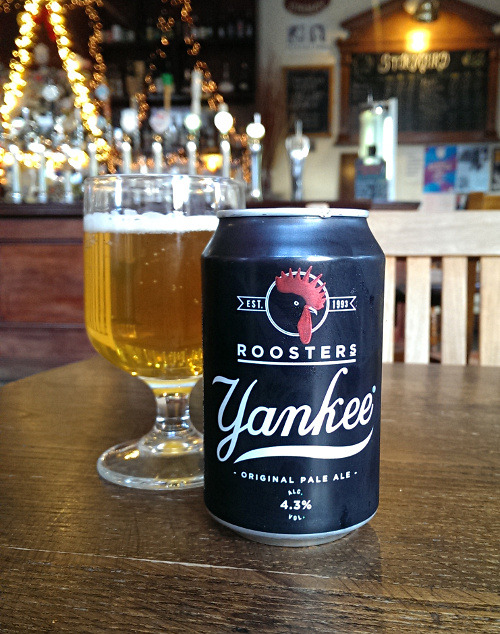 Which—as if Threehundredbeers needed an excuse—brings us back to the ever-magnificent Stormbird in Camberwell, that Aladdin's Cave of beery awesomeness where we enjoyed the classic Rochefort 10 a mere 50 or so beers ago.
Yankee is classified in The Book as a Best Bitter. Whether or not the recipe has developed over the years I couldn't say, but it would unquestionably be seen as an American-style Pale Ale these days. Just look at the colour, for a start.
The aroma is floral and delicate, but full of citrus and tropical fruit: lychees, grapefruit, mango, that sort of thing.
There's yet more grapefruit in the flavour, courtesy of the Cascade hops, and a pleasingly huge bitterness that's well balanced by juicy sweetness from the malts.
It's a classic, obviously, and a relatively light body makes Yankee hopelessly drinkable. It should probably come in a bigger can, quite frankly, but at Stormbird's reasonable prices we can afford to take a couple more home with us.
Facts and Figures
| | |
| --- | --- |
| Brewery: | Rooster's, Knaresborough, North Yorkshire, England |
| Style: | Best Bitters |
| Strength: | 4.3% ABV |
| Found at: | Stormbird, Camberwell Church Street, London SE5 |
| Serving: | 330ml can |