Time for yet another super-strength Belgian blonde beer. This time, however, the label forgoes the standard allusions to monks, abbeys and the Middle Ages. Instead we have this funny little bearded cartoon gnome character—the eponymous "La Chouffe".
In fact, rather than tracing its heritage back to some distant historical legend involving cloistered friars and royal benefactors, the Brasserie d'Achouffe dates from the 1970s, when two Belgian home brewers decided to give up their day jobs. This could be interesting.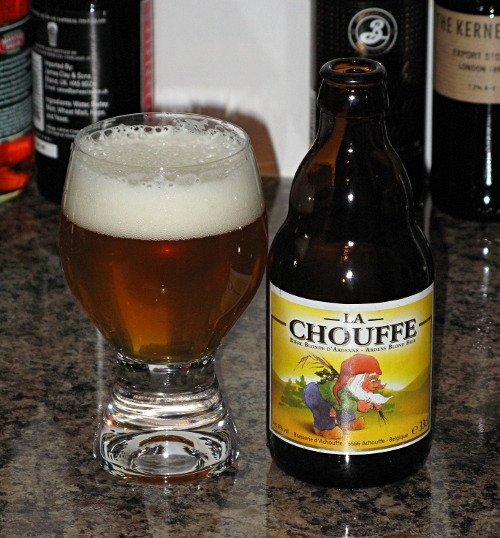 While it pours somewhat darker, La Chouffe doesn't taste a great deal different to Bosteels Karmeliet Tripel but is smoother, dryer and a little fuller-bodied. It's drinkable enough, and doesn't taste as strong as 8% ABV.
Apparently the beer is flavoured with coriander. I couldn't detect it at all, but I may be alone in that, since others could.
I don't mind La Chouffe at all, though on the other hand I still find it hard to get excited by beers of this style.
Perhaps the reason that a lot of these extra strong Belgian beers are lost on me is to do with context. A beverage like this probably isn't designed for an icy South London evening. Drinking it in the sun outside a Sainte-Catherine café bar with Moules-frites might be quite a different experience.
Facts and Figures