Occasionally you don't have to go looking for these beers: they come to you.
And so it was when one of my local boozers tweeted that they had just put Hop Back Summer Lightning on the bar.
I didn't hang about: I developed a taste for Summer Lightning when I first moved to London, about 13 years ago, and I haven't had it for a very long time. Needless to say, there I was a few hours later. Pint of Summer Lightning please, Zöe.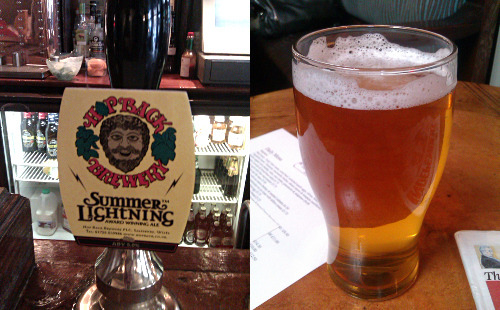 Hop Back Summer Lightning is your typical summery Pale Ale, golden in colour, with a smallish white head that fades quite quickly.
It smells of…wait…no, it actually doesn't smell of anything. I'd better taste it. Nope, still nothing. No hops, no malt, nothing. Maybe a slightly dry, bitter finish if I concentrate really, really hard, but no. In all honesty, there is absolutely no flavour to this beer whatsoever. This is probably the blandest beer I've come across since the woeful Du Bocq Blanche de Namur.
Something's up, but I don't know what. This is not the beer I know from a decade ago. I would hesitate to blame The Commercial's (admittedly not always impeccable) cellaring. Maybe it's the two halfs of the utterly stunning Pizza Port Night Rider imperial stout I had in Brixton earlier numbing the proverbial out of my tastebuds. Maybe Summer Lightning just ain't what it used to be.
Not a great pint, by any stretch of the imagination, but I don't want to write this one off. It can't have fallen this far, can it?
Facts and Figures