Here's another beer that should be a completely new experience for me. Oude Geuze Boon hails from Belgium and is an example of a style of beer known as Gueuze*, itself a sub-type of Lambic, a sour wheat beer synonymous with the town of Lembeek in Belgium.
This is the first time I've tried a beer labelled with any of the terms Gueuze, Lambic or "sour" and, truth be told, I've had the bottle sitting around for quite some time while I plucked up the courage.
That may be no bad thing, since Lambics are well known for their tendency to improve with age. This one dates from the 2010-11 bottling and sports a "best before" date of early October 2032. You get the feeling the date is only on there at all simply to satisfy an EU bureaucrat somewhere.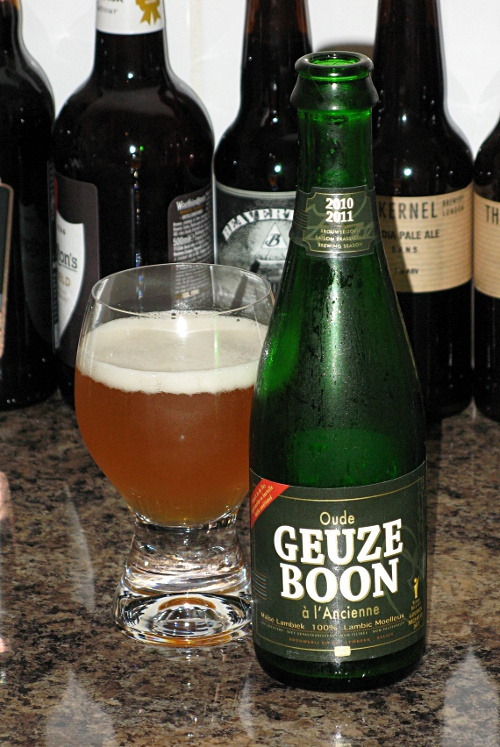 Oude Geuze Boon is presented in a smart 375ml bottle, and is Champagne-corked, to let you know you're dealing with something a bit grown-up. It pours a typically Belgian and slightly cloudy deep golden colour, and has a tightly frothy white head backed up with a lively fizz.
There's an immediate and unmistakeable pong of cider, in particular the distinctive sweet-yet-sour stench of the lamentable Scrumpy Jack, which briefly transports me straight back to memories of the early 90s.
At the risk of stating the obvious, the beer tastes sour, but unfortunately, aside from a fairly standard Belgian ale hiding in there somewhere, there isn't really much more to it than that. As with Aecht Schlenkerla Rauchbier, it's hard to taste anything beyond the main gimmick of the beer, and as with the Rauchbier, I soon wish the bottle were smaller.
I fully accept that a lot of that will be down to my own inexperience with the style: these kinds of beers are quite literally an acquired taste, though I don't foresee myself drinking enough of the stuff in future to acquire it. That said, there are a few more in The Book which I'll have to wade through at some point.
Of course, at a mere three years old, this bottle has a lot of growing up to do, so it would also be fascinating to see what 20 years or so worth of cellaring would do for a beer like this.
All in all then, this is not to my taste by any means, but I'm glad I finally tried it.
* If it appears that I'm spelling things inconsistently here, my justification is that "Gueuze" is the name of the beer style as given in The Book, and on Wikipedia, while "Geuze" is the spelling used in the name of this particular beer, as seen on the label.
Facts and Figures