This is another beer that I've had sitting around for a while, and never quite got round to trying. With some of the amazing beers that small London breweries like Beavertown and The Kernel have been putting out recently, it has been difficult to summon up much enthusiasm for a 4.0% English Bitter from the corner shop.
Of course, that sort of lackadaisical approach to the 300 Beers project isn't going to have the thing finished any time soon, so let's crack this one open and see what I've been missing out on.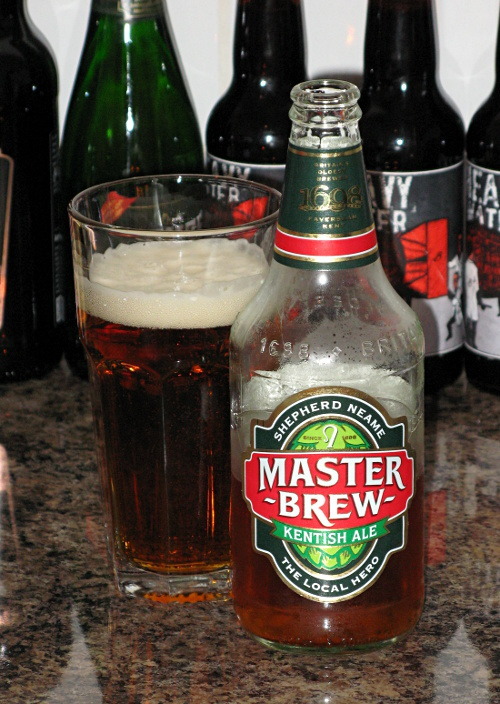 Well, Shepherd Neame Master Brew is certainly a fine looking beer, pouring an inviting deep bronze colour with a generous off-white head. The aroma is remarkably malty, with delicate hops and the faintest hint of the distinctive smell of a beer that's been sat in a colourless glass bottle for slightly too long. That's entirely my fault, rather than the beer's, of course.
And it tastes…absolutely terrific. I'm taken aback, as if I've learned nothing from my expectations turning out to be entirely misguided countless times already. Master Brew is full of biscuity malts and peppery English hops, and there's an underlying toffee and dried fruit sweetness that's the signature of a good Bitter.
Those toffee and fruit notes remind me of the last Shepherd Neame beer we saw, Bishop's Finger and also Fuller's ESB, though Master Brew is much lighter and more floral than both of those.
At a fairly tame 4.0% ABV, this one would be eminently sessionable too, and I suspect it has the potential to be absolutely wonderful on cask if kept and served well. I also discovered by accident that it pairs surprisingly well with cheeses such as Camembert, and no doubt other food too.
Good stuff from Shepherd Neame once again.
Facts and Figures
| | |
| --- | --- |
| Brewery: | Shepherd Neame, Faversham, Kent, England |
| Style: | Bitters |
| Strength: | 4.0% ABV |
| Found at: | Maxy Supermarket, Norwood Road, London SE24 |
| Serving: | 500ml Bottle |