After a hard day patching up potholes on the information superhighway, there isn't much that can beat putting your feet up with a good bottle of stout. Fortunately, there are an inordinate number of porters and stouts in The Book, so it's probably time to open another of them.
This is our second beer from Oxfordshire's Hook Norton Brewery, having tried their Old Hooky a few weeks ago. That was a good beer, but I couldn't quite place what it was trying to be. There should be no such ambiguity with this, their 4.8% ABV, bottle-conditioned Double Stout.
What is slightly unclear is what the "double" in the name refers to. At just 4.8% we're clearly not talking in the same terms as a Double IPA, which would typically be, well, double that strength. The bottle loosely implies that it might be to do with the fact that both black and brown malts are used, while The Book declares that it "recalls the period in the 18th and 19th centuries when porters and stouts were labelled X and XX".
Perhaps we're splitting hairs: what matters is whether it's any good.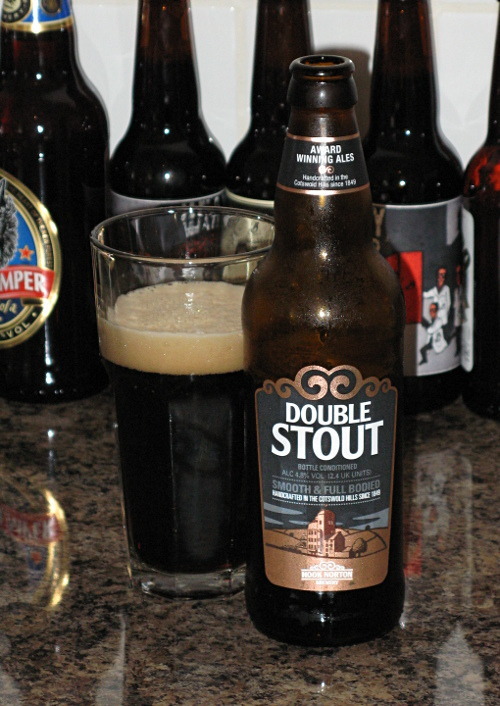 Hook Norton Double Stout looks much as a stout should, pouring such a dark brown that it appears black, and with a good frothy tan head. There's a big, creamy malt nose with both toasty and floral notes that certainly seems promising.
There's a slightly sharp, hoppy twang that's front and centre, a nicely rounded body, and a subtly dry finish which manages to be satisfying without being in any way overpowering.
Overall the beer is quite fruity and—dare I say it—delicate for a stout, but served nicely chilled, it's remarkably knock-backable. I suspect this might be a good stout for those who wouldn't usually venture quite so far towards the dark side, as it's a little less challenging than some stouts, whilst remaining a very good example of the style.
After the last couple of beers haven't quite hit the spot for me, thankfully I've very much enjoyed this one. It certainly didn't hang about long, and I'd happily opt for one of these again, especially if it popped up somewhere on draught.
Facts and Figures