In retrospect, I may inadvertently have given The Commercial a bit of a hard time
when I reviewed that underwhelming pint of Hop Back Summer Lightning last week.
Which, all told, is a bit of a flimsy excuse for drifting back there today and ordering a bottle of Grolsch.
I know what you're thinking. Grolsch doesn't exactly have the finest reputation around these parts: in the UK, it's typically a flavourless, slightly-too-strong-to-be-sessionable keg lager with very few redeeming features. I was surprised to find it in The Book at all.
In fairness, this is no ordinary Grolsch. This is the proper, imported, Dutch-brewed Pilsner in the tactile, sculpted green glass bottle with the famous swing-top. Young people of my generation might recognise the ceramic cap from the shoes of such popular modern beat combos as Bros. Google them, kids.
It may be my imagination, but imported Grolsch seems to get harder to get hold of as each year passes. No problem: The Commercial have it on permanent standby in the fridge, and a chilled bottle of lager seemed irresistible on this, the muggiest day of the year so far.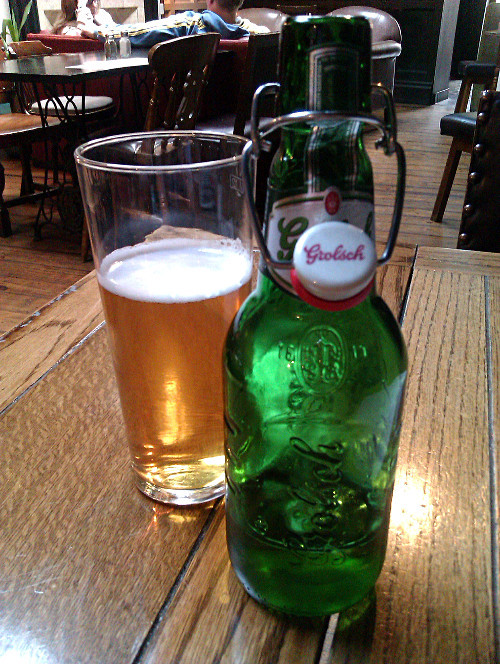 Well, there it is. A slightly stingily-sized 450ml bottle of lager with a fancy lid.
It tastes like a halfway decent lager, which is to say that there's the slightest hint of malt in there to prevent it tasting of nothing at all. This, in essence, is where the imported Grolsch differs from the UK-brewed keg stuff.
It was cold and I didn't hate it, but yeah, pint of Brooklyn Lager, please Zöe.
Facts and Figures