Let's continue on our mission to sample our way through the impressive Poechenellekelder beer menu, this time with a daunting 12.0% ABV Belgian amber beer, Bush Ambrée.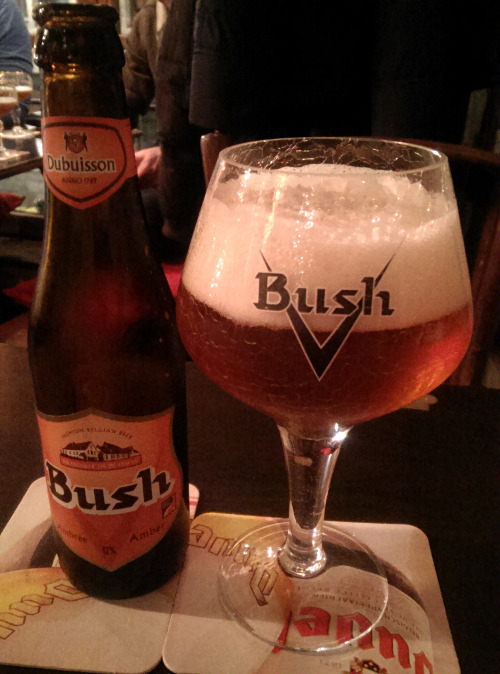 The deep, rich golden beer certainly looks the part, and as with every single beer I tried at Poechenellekelder—and indeed anywhere in Brussels—it's served in the correct glassware, in this case a rather nice looking Bush-branded chalice with a pleasing cracked glass effect.
The bottle claims this to be "The Strongest Belgian Beer", which is a bit of a stretch since the same brewery makes at least two stronger ones, but still, as only the second beer of the evening, I'm already wondering if I've peaked too early.
One sip is enough to reassure me that this was a good choice. Sure, it's boozy, but the warming alcohols are balanced out with a rich, spiced-honey sort of sweetness and a smooth, full body full of delicious sappy malts.
Bush Ambrée is reminiscent of a Barleywine, and while similar in style to Pauwel Kwak, it's a little lighter and less sticky, making it even more easy-drinking. Which could get dangerous.
But having said that, I really enjoy the culture and civility around beer drinking in Begium. While many of the beers are hopelessly strong, the emphasis is always on quality over quantity. Table service and slow, measured enjoyment of the product are the norm, rather than a fight to the bar and necking as many pints of lager as you can before the bell rings, which is more the British approach.
I rounded off the visit to Poechenellekelder with a delicious, dark St. Bernardus Abt 12. That one isn't The Book, but it's probably a good job, since my notes start to become a little less legible at this point.
Facts and Figures