This time next week I'll be in Brussels sampling some of the world's most famous beers. Tonight though, I'm in a rainy, resolutely ungentrified Camberwell, London at the ever-magnificent Stormbird, one of my very favourite pubs in the world.
I'm reluctant to tell you about Stormbird, because it's the sort of place you want to keep to yourself, but it truly is wonderful: an Aladdin's cave for the beer lover, with a mouth-watering and ever changing tap lineup, lovely staff and a civilised, if somewhat youngish, clientele.
It's time to get some Belgian beer-related practice in, and also to round off the three Rochefort beers we need by putting ourselves on the outside of this 11.3% ABV monster of a Trappist ale, served, you'll note, in the correct glassware.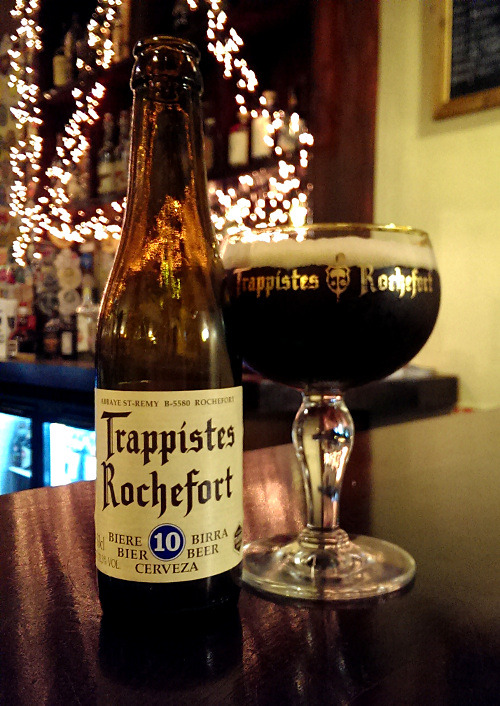 Without question, that's a fine-looking beer right there. Rochefort 10 is a rich, deep brown colour with a remarkably dense tan helmet of foam that doesn't dissipate until the last drop is drunk.
I didn't detect a huge amount of aroma, at least compared to the eye-wateringly fresh keg Thornbridge Halcyon I'd enjoyed mere moments before. What there is though is distinctly Belgian, and reminiscent of a Dubbel, though a little lighter.
The mouthfeel is thick and smooth, and the flavour is all christmas pudding packed with dried fruits, berries, caramel and booze. That said, the 11.3% payload is well integrated, and while this is a very decadent beer, it's oh so drinkable, and a lot more subtle than the sledgehammer of flavour and intoxication that was Samichlaus, our previous double-figures leviathan.
Splendid stuff. This would make a great after-dinner beer, to be savoured slowly and swilled around the glass in your favourite armchair. And thankfully, that's one less ridiculously strong Belgian beer that I need to find next week.
Facts and Figures