Whilst I'm not sure that I've lived down opting for that somewhat overcomplicated bottle of Affligem Blond just yet, it's time for 300 Beers to show its face once again in the rather wonderful Grape & Grain, up the hill in Crystal Palace.
Let's puff out our chest, involuntarily adopt a Cockney accent, and order something a bit more manly this time: a pint of cask Adnams Broadside.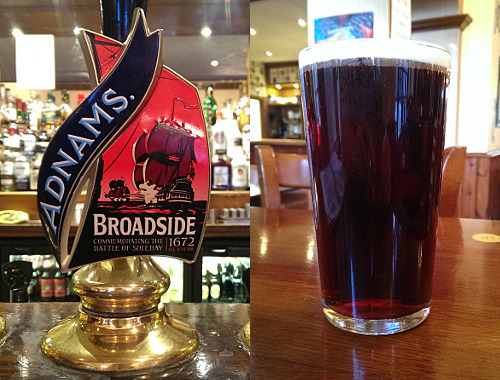 Among their 12 handpumps, "the Grape" often have something on from Adnams, one of the most highly-regarded of the old-school English breweries. Like all the other cask ales in this pub, it's always going to be in great nick too.
And so it is today. Broadside pours a lovely deep ruby or chestnut colour with a smallish off-white head. The aroma is all fruitcake and christmas, while the mouthfeel is thick, rich and just a little sticky.
The flavour is yet more nutty dried fruit and cake, with a dense underlying sweetness. Hops are subdued, making Broadside somewhat reminiscent of a Mild or a Brown Ale, styles of beer which continually prove that low on hops needn't equate to low on flavour.
And Broadside is full of flavour. It tastes stronger than the nominal 4.7% ABV it claims to be, but goes down as smoothly as can be. Still I'm not sure I could drink more than a couple, as this really is quite a heavy, rich beer. It's good though.
Broadside is also available in a 6.3% ABV bottled version, named "Strong Original", acknowledging the fact that Broadside was once a much stronger beer. It's a testament to Adnams' considerable brewing skills that they've managed to tame the cask version down to the lower ABV without neutering the flavour one bit.
Facts and Figures