The time has come for 300 Beers to selflessly embark on a brief, shall we say, "research" trip to Brussels to track down a few of the many Belgian beers still required for this ridiculous quest.
In this case, it's a sour, cherry-infused beer known as Kriek, which I enjoyed in the tasting rooms at the Cantillon brewery in the Belgian capital as part of a tour of the brewery. You can read all about my visit here.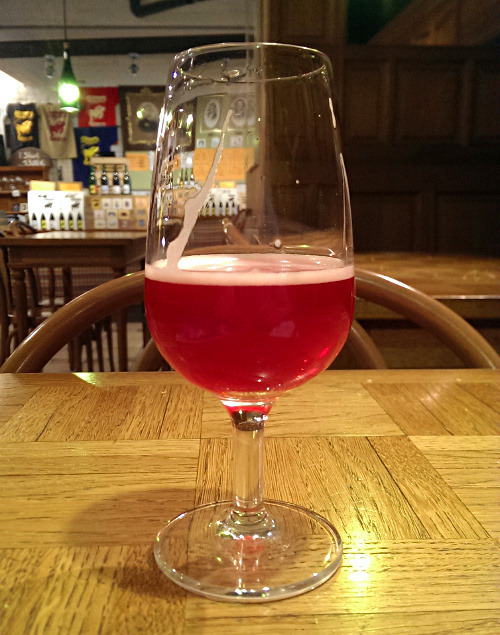 Cantillon Kriek starts life as two year-old, barrel-aged Lambic. Large quantities of sour Schaerbeek cherries are then soaked in the Lambic for around six months, at which point a quantity of fresh, young Lambic is blended in. The resulting blend is transferred to bottles for a period of secondary fermentation, during which time it becomes a delicious, frothy red Gueuze.
I'm not typically a fan of fruit beers, but then it's fair to say that this isn't a typical fruit beer. Like all Cantillon beers it's as sour as can be, and the cherries complement that sourness beautifully.
The result is a satisfying and complex beer, and the tiny hint of sweetness provided by the cherries just offsets the mouth-puckering Lambic sourness, to leave a tart, dry and lingering finish.
Cantillon Kriek is certainly moreish, but its richness means it's probably best enjoyed in smaller quantities. I'm not sure I'll become a huge fan of fruit beers just yet, but it certainly makes for a refreshing change, and the chance to enjoy it just feet from where it was brewed, surrounded by the evocative sights, sounds and smells of the venerable Cantillon brewery only adds to the experience.
Facts and Figures