To complete the set of three Fuller's beers in The Book, we turn to something a little bit special. Late each year Fuller's produce a limited number of bottles of their Vintage Ale. Each year's brew will be subtly different, with head brewer John Keeling varying the choice of hops and malts to take advantage of the best available that particular year.
The beer's style is always broadly consistent though, typically being an 8.5% ABV, bottle-conditioned barleywine-style ale based on Fuller's own Golden Pride. The presentation of the beer is immaculate, with each bottle being individually numbered, labelled using the highest quality label stock and finally presented for sale in a handsome claret-coloured box.
There are quite a few beer lovers who make an annual tradition of snapping up at least a case of each vintage and squirreling it away, only to be broken out for very special occasions many years into the future.
And this certainly is a beer that benefits from some judicious aging. I tried a couple of bottles of the 2012 vintage pretty much as it rolled out of the brewery, and while it was a fine beer, it was clear that it was by no means the finished article.
I've a 2006 tucked away, though since I can't bring myself to open it, I was rather pleased to stumble across bottle No. 014468 of the 2010 vintage innocently minding its own business behind the bar of the same pub in which I tried Fuller's London Pride recently.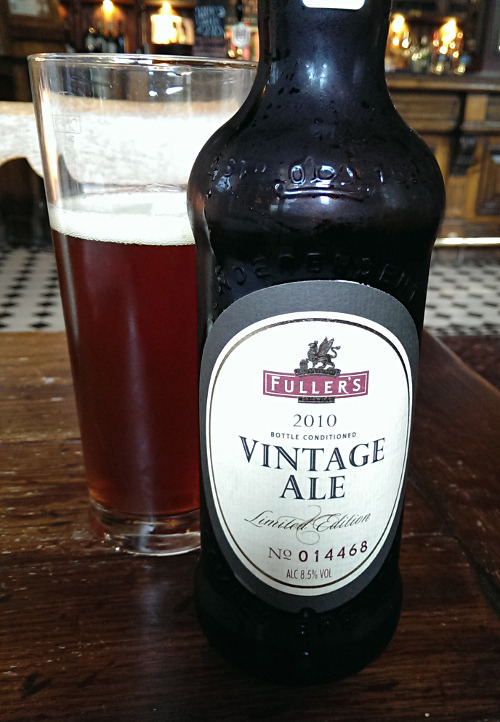 Fuller's Vintage Ale pours a deep burnished amber colour, with a tight off-white head. On pouring there's a huge waft of orange peel and booze escaping, no doubt pleased to be liberated after several years of gently fermenting in a confined space.
The barley used in 2010 was the endearingly-named Tipple, while the hops are the very traditional Fuggles and Goldings, and the beer is dry-hopped using Target and yet more Goldings. Three years on, though, there's very little by way of hop bitterness remaining, and instead that barleywine sweetness is front and centre, once again complemented by the distinctive orange notes provided by Fuller's signature yeast.
The mouthfeel is strikingly thick and unctuous, while the flavour is like orange marmalade and butter spread on fruitcake soaked in rum.
Indeed, there's an indulgent booziness that reminds you that secondary bottle fermentation means this beer may actually be stronger than the nominal 8.5% on the label. It certainly gets to work pretty promptly, providing a warming glow that, while very welcome even in August, would make this beer especially well-suited for drinking in the winter. In fact, this may be the ultimate Christmas beer.
All in all, this is a very special beer, and certainly not an everyday tipple for many reasons. While numbers are finite, Vintage Ale from the last two or three years is far from impossible to get hold of, at least here in London. I recommend finding one of the smarter Fuller's pubs and making friends with the staff. You never know what they may have lurking in the cellar.
Facts and Figures