This is the second beer to be featured here from London's oldest existing brewery, after the excellent pint of Fuller's ESB I enjoyed a couple of months ago.
Given the relentless ubiquity of both Fuller's and their flagship London Pride around these parts—practically any London supermarket or corner shop will stock it, not to mention Fuller's own network of 367 pubs, or London Pride's countless appearances as a guest ale—it may seem remiss that it has taken me so long to get around to covering it here.
Clearly this isn't the first time I've tried London Pride, and so I'm well aware that it's a beer that, unless kept and served to absolute perfection, can make for a fairly underwhelming pint. For this reason, as with the ESB, it's well worth seeking out one of the better Fuller's pubs where they really know how to condition a cask ale.
And so it happened that a rainy bank holiday weekend saw me make my way back to the Mad Hatter Hotel in London's Stamford Street, the very same pub in which I sampled the ESB.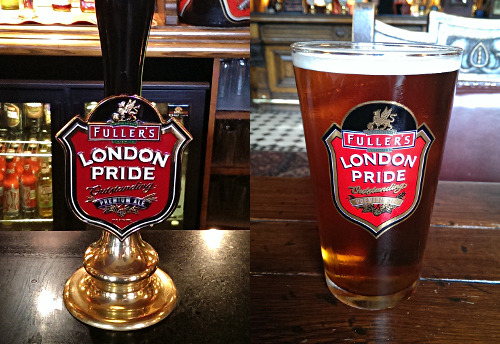 Fuller's London Pride is a lovely deep amber or perhaps burnished bronze colour, with a thinnish off-white head. It smells of good old-fashioned beer, in such an honest manner that it defies you to write anything pretentious about its "nose".
London Pride is somewhat lighter than the ESB, but the rich, underlying caramel and toffee sweetness is there, as befits a well-kept cask Best Bitter. That's complemented by Fuller's signature orangey notes, provided by their in-house yeast, and balanced by a dry, bitter finish full of peppery hops, making London Pride satisfying yet refreshing, and a cut above the average session bitter. It's really quite moreish. So I had another.
At a sensible 4.1% ABV, you can afford to do so. It's to Fuller's eternal credit that they've created a beer of such complexity and depth at such a sessionable ABV, and so it's no wonder that they shift well over 100,000 barrels of the stuff each year. To some extent London Pride is a victim of its own success in that its ubiquity means it tends to be taken for granted by Londoners, myself included.
Facts and Figures