Beer number 75 seemed like a suitable enough landmark to justify a lengthy, shall we say, "research" expedition around the hostelries of South East London. And truth be told, there are some exquisite pubs tucked away off the beaten track, if you know where to look.
The Blythe Hill Tavern, in a sense, is about as on the beaten track as it gets, sitting as it does directly on the South Circular. It's a famous little place too, widely and rightly acknowledged for the quality of both its beers and its welcome. And yet to my shame, I had never visited.
I have now.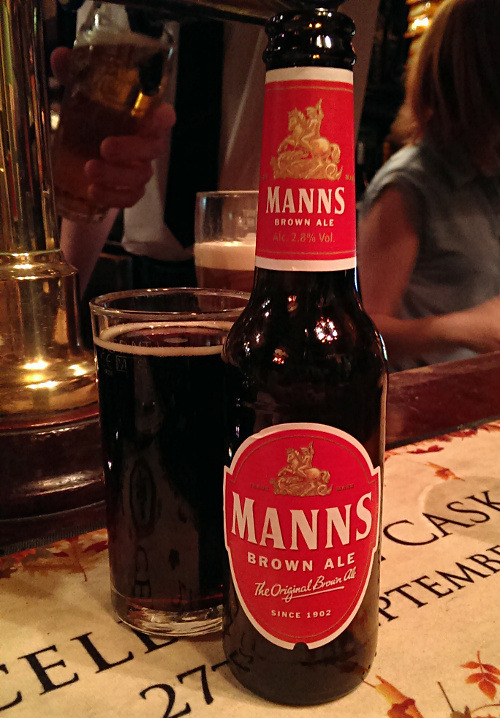 And what a lovely boozer it is. The range of beers is a gloriously unplanned mixture, as are the clientele, but this little beauty caught my eye immediately.
Manns Original Brown Ale weighs in at a mighty 2.8% ABV and comes in hefty 275ml bottles. I know, steady on.
It's packed with flavour, though. Rich, dark, sweet and dense, this is by no means a lightweight beer. It turns out that Manns was originally brewed in 1902 as a mixer, to be added to your pint of draught bitter. It seems that at the time, draught beer could be a little on the rough side, so you added a drop of the sweet, unctuous Manns brew to take the edge off it.
Which I guess explains the smaller bottles: maybe you'd get one for the table and share it around your Edwardian buddies' pints. At only 2.8%, maybe if you were the designated penny-farthing operator, you could knock back a whole one and still get home without attracting the attention of the Bow Street Runners.
Obviously such grotesque historical inaccuracies are a shameless cover for the fact that the Blythe Hill Tavern's exceptional hospitality diverted me from taking any further meaningful notes. I think it tasted pretty good though.
Facts and Figures
| | |
| --- | --- |
| Brewery: | Marston's Beer Co, Burton upon Trent, Staffordshire, England |
| Style: | Brown and Mild Ales |
| Strength: | 2.8% ABV |
| Found at: | The Blythe Hill Tavern, Stanstead Road, London SE23 |
| Serving: | 275ml Bottle |