My first ever trip to the brand spanking new Flying Pig up in East Dulwich left me spoilt for choice in terms of which of the remaining 300 Beers to pick out of the fridge first. Clearly, this pub will be a valuable ally on our ridiculous quest.
I plumped for this one: a 5.2% Belgian amber ale, almost certainly the most famous export of the city of Antwerp.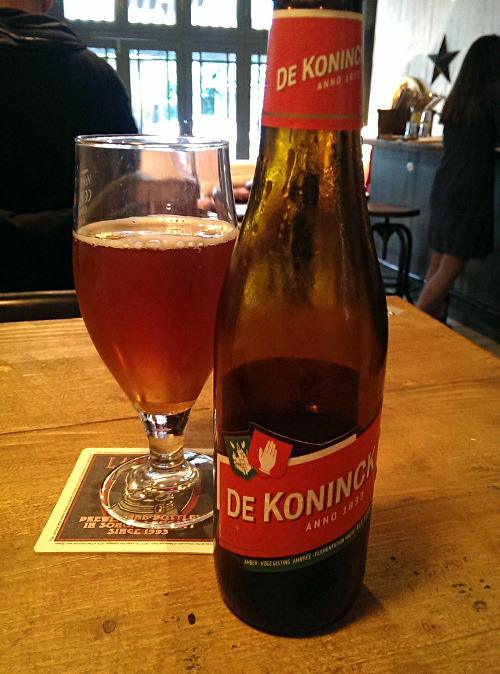 De Koninck, meaning "the king", pours a bronze, toffee sort of colour with a fairly small off-white lacing. There's a slightly musty yet resinous aroma, which isn't nearly as unpleasant as I've made it sound.
The beer is slightly astringent and light bodied, or at least seemed that way after the very smooth pint of Thornbridge's "Kill Your Darlings" I'd enjoyed just minutes before. There's a real fruitiness though, and a butterscotch sweetness, while those distinctive Belgian esters are present yet restrained. Strangely, De Koninck manages to be very dry and quite sweet at the same time.
5.2% is quite light for a Belgian beer, and I couldn't help feeling this one needed a heftier dose of booze in it to really make it shine, but it was enjoyable enough.
Facts and Figures